A Community Art Project Produced by Gary Olsen and Parks Media Group
Where Prints Available:
Creative Touch Gallery and Frame 563-556-1813
Frame of Mind, Plaza 20 563-583-2422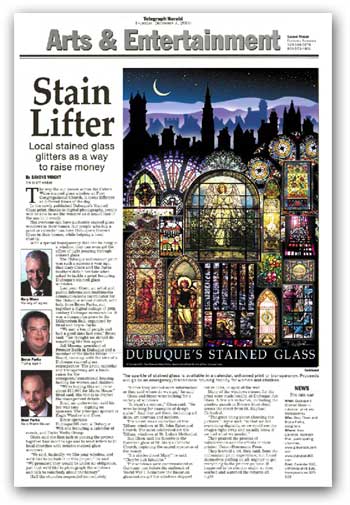 Look! We made the paper! Click on it to read the Telegraph Herald article.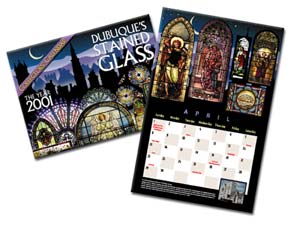 he project is complete.The calendar and the limited edition print turned out beautifully. We are taking orders, and our first official public appearance is this Friday at Kennedy Mall in Dubuque. It's been a whirlwind four months since the project began. We had actually begain working on the concept before that, but now comes the fun part. We meet people, sign prints and calendars, and just bask in the glow of one of the most fun art projects yet.
Below is a production diary of our tour through churches and residences in the city of Dubuque. At the bottom of this page is an image of the print which you can see enlarged on your computer screen by merely clicking on it. The calendar, of course, is at the left. This was a lot more difficult to produce than I originally thought. To make up for the time it ultimately took to meet our production deadline, we had to spend at least three nearly all-night sessions. Yes, we watched Dan Rather and Tom Brokow make fools of themselves at 4 AM on national television while we worked on image files, layout and copy additions right up to the finish. It has been a tremendous amount of work, but projects like this are really worth it. We not only produce a work of art, but we make friends along the way, and the proceeds are going to great cause. Everybody associated with this projects wins.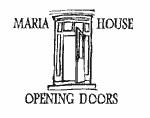 Maria House in Dubuque, transitional housing for women and children, is the beneficiary of the revenue from this project. It's a wonderful organization. Our primary sponsor is Eagle Window and Door who just completed a new factory in Dubuque for the manufacture of their product line. Eagle Window and Door is among Dubuque's great business success stories.

When we went down to Union Hoermann Press to see the color comprehensive of our print image file, we were blown away by the color and detail. It is truly magnificent if we do say ourselves. Randy Sigman, fourth generation in the printing business in Dubuque, is another success story. He worked with us on last year's Millennium Print, and we are back with him again this year. But we didn't give Randy a lot of time to make our intended deadline. But that's why we work with Union Hoermann. They consistently deliver quality on time and on budget.
The banner at the top of this page is actually our promotional sign. It has been produced by our friend Ron Shaw at Digital Designs on vinyl. It will accompany us on tours and signings. But there's one more cool thing about the print you must know.

When my partner, Bryce Parks (Parks Media Group, the hottest new design firm in Dubuque, Iowa) took the color comp to our primary sponsor, Eagle Window and Door (they're just down the street from our printer's establishment in their brand new offices and factory) they were so impressed, they offered to build a custom window casement to display the large transparency of the print which will be on display at our print and calendar signings.
---
"A Symphony of Color and Light"

Wednesday, October 4th - We get started: Bryce Parks and I visited our first churches for principle photography, both video and still imaging. Our first church has the most modern windows. We wanted to do at least one example of the stained glass art that was done in the last 30 years. Nativity Church is such a place where the impressionistic slag glass windows were created by a renowned French stained glass artist from Chartre. The Nativity windows are magnificent, evoking the painterly style of Van Gough (Starry, Starry Night) or Marc Chagall. Holy images emerge from the wild looping tracery of concrete and glass only after you've been looking at the windows for awhile. It was a bold and modern approach in what best can be described as an old and probably conservative Catholic parish. But these windows are those of a visionary. We interviewed lifelong parishioner and recommended authority on the windows, Judy Reilly. At first she professed limited knowledge of the windows, but she was an excellent subject on camera, and many details about the windows came forth from research she did before we arrived.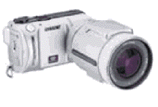 We moved on to First Congregational (where I saw my favorite piece... the Calista Wales window from First Congregational, which is a Tyffany) and St. John's Episcopal where there were some splendid Tiffany windows. One particular window was small but incredibly beautiful. I can't wait to work with the image. Everything is being photographed digitally using the Sony DSC F505 (above). Further, Bryce is using the Canon XR1 DV-CAM, and we are getting spectacular images with that piece of equipment. Interviews are going well, too. The people representing the participating churches are wonderful on camera. We've got some great interviews, particularly at First Congregational Church where Reverend Nancy Bickel, not only showed us their magnificent Tiffany near the alter, but their more recently installed window for the church's children's section where it's low to the ground so kids can touch it.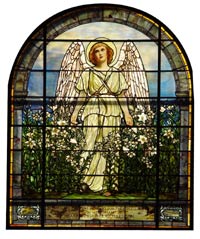 Then we went to Dubuque's "jewel in the crown" St. Luke's United Methodist, which has the largest collection of Tiffany Art Nouveau windows in the country. Every piece of glass is a Tiffany! Some are so beautiful they take your breath away. The angel at right is one of the finest windows I've ever seen, and it will figure prominantly in the final composition, I just know it. The windows are almost painterly in their execution with figures that look 3D. One of the larger windows was being restored, and the pastor, Jerry Oakland, told me that it was comprised of several layers of glass that give the background images like foliage and flowers extra depth.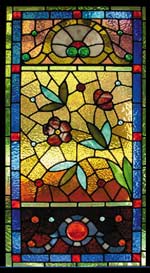 October 12th- Wonderful hospitality from an old friend: I've been in so many churches working on this project, I'm going to heaven for sure! Tim LoBianco, pastoral administrator for St. Pat's and St. Mary's gave us permission to photograph some of the most beautiful German Gothic windows in the city. Tim is an old pal of mine from my early days working at St. Regis Paper company, a summer job I had while going to college. Such fond memories. Tim is a great musician... used to have a rock band back in the '60s! I digress. Back to the glass. Many of the churches built at the turn of the 20th Century use Bavarian glass windows. These are windows hand crafted in Bavaria. At St. Mary's, for example, (all depict the life of Mary) the windows are among the best examples from this region of the world. The windows almost didn't make it to St. Mary's because of the outbreak of World War I, I was told. Bryce got some splendid video in the church, by the way. I can hardly wait to work on the documentary.
We're also including some windows from private residences in this project. The beautiful rectangular window you see here is the one that actually started it all. It's the window in my friends' and colleagues' house on Bluff Street in Dubuque. Bryce Parks, my collaborative partner, and his brother, Brad, live in a 100-year-old+ brownstone townhouse across from the Cathedral. The windows in the door are fantastic. When the sun shines through them, it's a riot of color.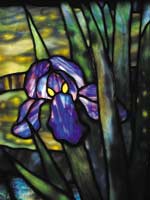 At right is a detail of an iris from one of the Tiffany windows at St. Luke's United Methodist Church. The entire church, one of the first established west of the Mississippi River, is resplendent with Tiffany windows. It is a treasure of unparalleled beauty. Note how Tiffanny did very little painting on glass, but preferred to take a mosaic approach using colored glass to render extremely detailed objects. For fine details, Tiffany would clad the small pieces of glass with thin copper tape and cover the joint entirely with solder beading rather than use the traditional lead channel.
October 20th- Shots from St. Anthony's must be taken again: Bryce took one of the digital cameras to Nativity and to St. Anthony's churches in Dubuque and got some good photos. Now, with over 50 photos in our database, I'm beginning to put the poster together. We may have to shoot the photos at St. Anthony's over again. Bryce forgot to take a tripod and the images are fuzzier than I would like them to be. Well, the windows have been there for more than 70 years, so I'm sure they'll wait for us to return and reshoot some of those glorious windows.
October 25th and 26th - Long nights: I worked long into the night both nights, and the result is below. My computer workstation is acting funny, and I hesitate to want to optimize the disk or reinstall software because I may lose precious files related to this project. Another issue I must deal with is I have to work in high resolution file size, and this requires a lot of disk space which I'm nearly out of. I have plenty of RAM (random access memory) to handle manipulation of the individual components, but I also need free disk space for scratch files while working on the print.
For a long time into this project, I didn't have any clear idea of how this total image was going to look, and then, it struck me. Why not capitalize on what I've already done with the Millennium Print? In other words, paint a scene of Dubuque against which the windows are displayed. Usually, I begin working on a project like this with no real clear idea, favoring experimentation to see what works best. But now, I had a mind's eye clear as crystal view of what this print was going to look like. I couldn't wait to get started.
I began painting a silhouette of the skyline. The rooftops and spires are what make Dubuque so beautiful. I know the skyline by heart having painted it dozens of times. Rooftops, chimneys, cupolas, dormers, mansard roofs, and the church spires all combine to create an unforgettable and indelible image that Dubuquer's, especially, remember long after they've left town.
I'm sorry for the long download time on this page, but I didn't want to shrink this image down to postage stamp. I hope it was worth the wait. We present to you the first draft of the limited edition print, "Dubuque's Stained Glass."
Click on the image to see and enlarged version.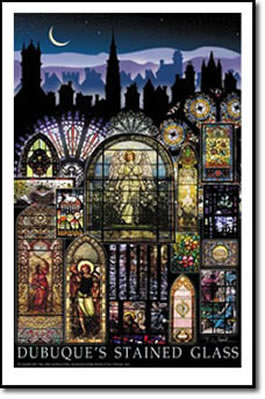 The size of the alpha prototype is the same proportion as an 11 x 17 inch page (tabloid or poster). The scale-up to the actual image size is problematic. I have all of the individual images in super-high resolution, but it takes a powerful computer (which I have) and huge disk capacity (which I don't have) to prepare the pre-press file. Wish me luck. Before I proceed, I may have to buy a larger disk drive. We are reasonably on schedule. The print has to go to press within the next week, and then we work on the Calendar which is relatively simpler to design but requires more production time. Our goal is to get this entire project, the print, calendar, and the video documentary ready for market before Thanksgiving. I don't have too much wiggle room here.

November 1st-- I'm in huge trouble: I'm out of disk space, and without sufficient margin, I can't even burn a CD-ROM. I'm in serious trouble. I allowed the disks to fill almost to capacity with stained glass window files, and that is a serious mistake. You must allow sufficient room on hard drives, and things just got away from me. I called Bryce, and he said, "I think I have a solution. Do you have an extra bay in your computer for another hard drive? I've got a two gigger here that might work if you have a bay."
My computer is special (a Mac PowerPC 8600). It not only has an internal drive but built-in Jazz and Zip drives. Problem is, the Zips aren't large enough to hold some of the files, and I want to keep the file directories contiguous (all in one place) rather than spread them out over several disks. That's one of the problems with a project like this. It's not only disk hungry, but you have to keep things in one place, spread over two disks tops. I'm out of Jazz drive space, too. I should have bought an extra. Darn! Bryce brings the two gig drive (internal). We crack open the case on my box, and there is an SCSI and power hookup but no space for a drive... wait a minute... there's a slim space above the internal Zip that might accommodate the drive. Bryce squeezes it in and it fits.
"Got some tape?" he asks. "I reach up on the drafting table, and grab the 3M multi-spool. He strips off about a foot of drafting tape and wraps the drive to the Zip like he's taping a hockey stick. "I hope this thing doesn't generate too much heat," he says. After setting a couple of switches on the drive and removing termination, we fire up the computer, and it works! "Good," says Bryce. "I would hate to have to call Apple Computer and tell them what we did. Like 'Excuse me... but do you recommend Scotch tape or duct tape to hold the drive in place? Uh, huh... uh, huh... duct tape is too thick and the adhesive melts? Less glue on the Scotch tape....' Okay then! Thanks!'"
The drive has been working perfectly, and it saved our bacon, which, if heat does become the problem, I can always fry it in my computer.
November 7 (Election Day) - I vote we get some sleep:
I'm waiting for Bryce, watching the election results, and we are planning on putting the finishing touches on the calendar tonight. It's been a huge effort. There have been at least two super late- night sessions.We didn't have a couple of sponsors locked down, and some of the photos had to be reshot. We just weren't happy with them. No big deal... Bryce grabbed the camera gear and did the reshoots. St. Anthony's windows are looking really good.
The print went to the Union Hoermann Press on Monday this week, and that's a relief. I put the pre-press file on CD, and even put a nice label on the box... a portion of the image. The print is magnificent. It was a true collaboration between Bryce and myself. His photography was stunning.
It looks like we'll have product by Thanksgiving, which is a good thing. You may recall that I was worried about my dwindling disk space on my workstation. Bryce came to my rescue with a 2-gigabyte drive he happened to have lying about the house. I'm not suprised... I have a basement full of old equipment, but none of my old drives are large enough to handle any of the projects I'm working on these days. Putting a 500 megger into my computer woud be an exercise in futility. But that 2-gigger saved my bacon. We moved all of our files onto it, backed them up to CD, and I was back in business.
Saturday Morning, November 10th- I'm an alarm clock:
Everything is at the printer. I'm up early working on marketing materials like a new banner (see top of page). I call Bryce, as I often do, early the morning, and I wake him from a sound sleep. He's thinking about throwing away his alarm clock and just having his cell phone by his pillow. I want him to see the Web site because we've added logos, more information about the project, and I need his Parks Media Group logo to complete the look..
We are elated with the quality of the proof prints from Union Hoermann Press. The colors and sharp detail are dazzling. I'm wearing my headset phone while talking to Bryce and typing this page. Weird."How'd the video going?" I ask Bryce.
"Grrrrrrrrrr..." he growls. "Did you say Great?" I responded. "Can you say 'tech support?'" returned Bryce. "His desktop video program has been acting hinky, and he's yet to do repairs because of the time consumed preparing the Stained Glass Project. I hope he gets things working soon, because it would be extra nice to have our video documentary available. It was so much fun shooting the video, but post production takes more time than anyone usually plans for, and then there's packaging and stuff to do, yet. We don't anticipate selling a pile of videos, but who knows? The primary goal was to have the video available for Cable TV Community Access as a kind of promotion piece for Maria House, but we've gotten inquiries about the video already, and this might be bigger than we originally thought.
I said good-bye to Bryce and got back to work on our sales materials and a portrait I'm working on at the moment for the Miniature Auction to benefit the Dubuque Museum of Art (that's next week) but they gave me an extension thank God. It must be all these stained glass windows I've been working with that has made people who deal with me more forgiving.

Learn How the Project Was Organized and Sponsored

Key to the Images Used in the Print

Visit the Project's Press Page and Publicity Kit