Client Page 1
See Client Page 2 | See Client Page 3 | See Client Page 4
Welcome to Gary Olsen's Client Pages. These pages provide my clients with an opportunity to view their works in process. It's advisable to bookmark this page for easy navigation back to it. If you are visiting a work in process, refresh your page on repeat visits so you're not viewing a page cached in your computer's memory. Enjoy.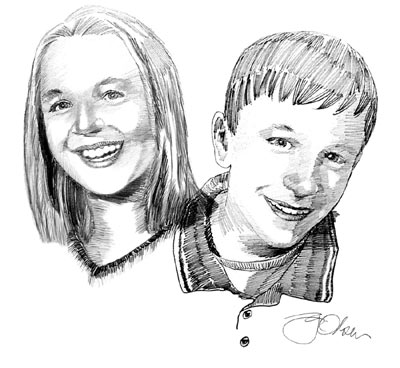 This is a portrait prepared on bristol paper using a variety of graphite pencils. I use mostly mechanical leads that I continue to sharpen and shape throughout the drawing process. I use softer leads for hair, fabric and dark shading, harder leads for details and fine shading. I also like a semi smooth paper, not too rough but not too slick. Often called cold pressed, the paper has just the right tooth to grab enough of the graphite but it gives me the opportunity to make a clean erase for highlights and corrections. Below is another portrait I did a year ago that shows more detail of my drawing strokes.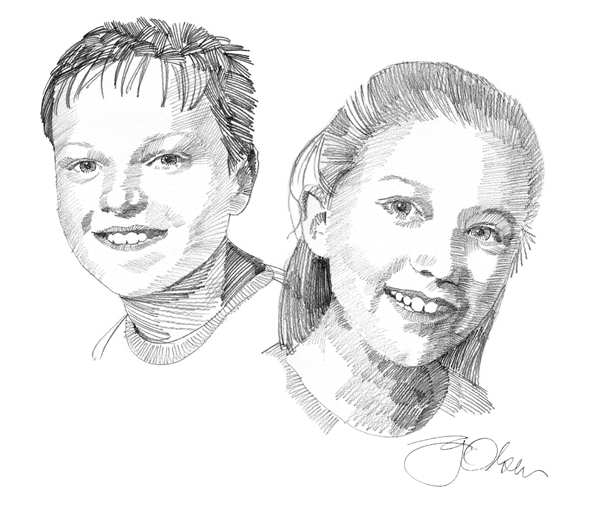 For my clients I provide both the original version and a digital version on disk or delivered via this Web site. The electronic file can then be dowloaded by the client for printing on greeting cards. Many of my clients are making their own Christmas Cards with their Epson or Hewlett Packard Printers and some card stationery from Staples or Office Depot... (don't forget the matching envelopes). Others go to a commercial printer, like Kinko's, and they download and print the file for them.
See More Client Projects on Pages 2 3 and 4