Welcome to Gary Olsen's Portfolio and the Easel Painting Section. Be sure to visit the other sections, including Illustration, Design and Cartoons. The portfolio is updated periodically with new material. Please visit again.

I do a continuous stream of portraits in my studio, and as I complete various stages of the piece, I post it here so the client can see how I'm doing.Below is a portrait I did for a wine label, and it was originally supposed to be a drawing. However, I just couldn't leave the drawing alone.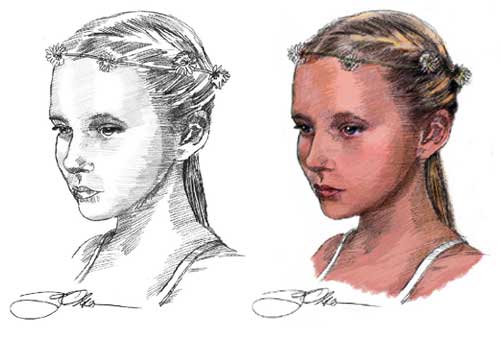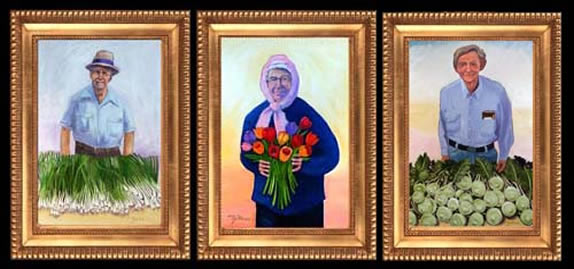 This is the Farmers' Market Triptych, a series of paintings celebrating Dubuque's famed Farmers' Market folks. I did these expressly for my solo art exhibit at the University of Dubuque Heritage Center. The figural below, Amanda in the Water Lilies, is also for that exhibit. It's an allegorical painting honoring the strength as well as natural beauty of the female of our species. Here Amanda (a friend from Galena, Illinois), is surrounded by beauty and fertile imagery, but yet she is very capable of survival on her own and here dealing the death blow when necessary. No fish wee harmed in the creation of this painting.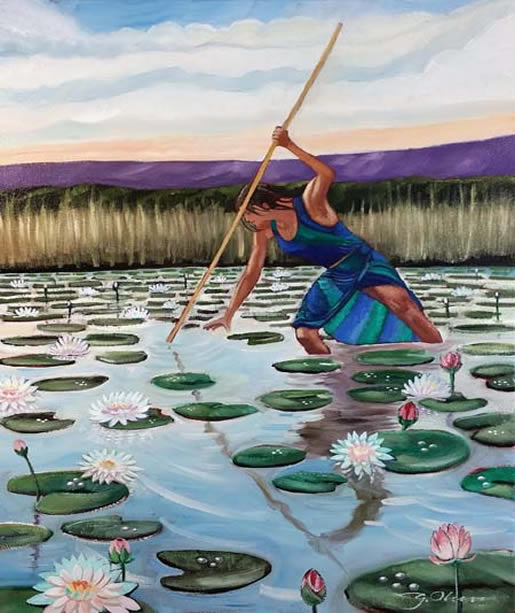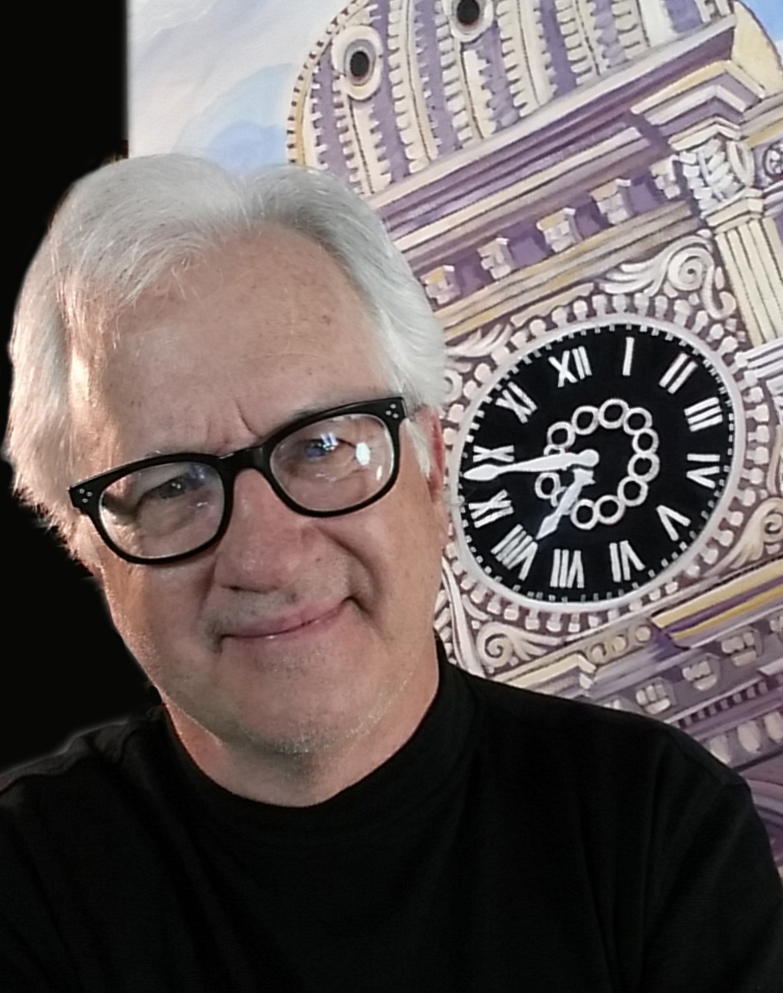 Behind me is the Town Clock, painted with oil on canvas. It is purely impressionistic. People comment on the details. I didn't intend on painting the details but how light falls across a very complicated surface. I painted the "impression" of details.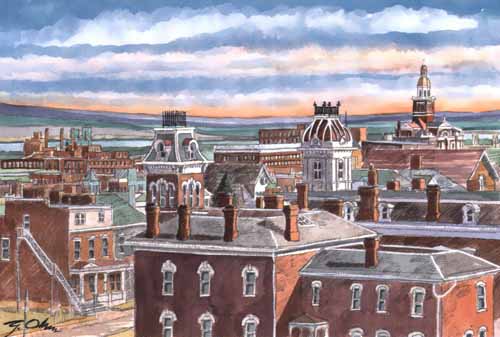 Rooftops III, Dubuque, IA.

Introducing my latest print, "Rooftops III." When my first print, "Rooftops," sold out two years ago, I introduced "Rooftops II" below. It was a different view of my favorite city, and still involving several familiar landmarks people like to see. Nonetheless, I continued getting requests for the first "Rooftops." Several galleries and frameshops continued asking me if I had any of my first print left. Then this winter, a patron asked me to paint the view as a special commission. I couldn't refuse. I asked her if I could publish a limited edition print of the painting, and here it is! It is available at Dubuque area galleries and frame shops this spring. Reserve your copy!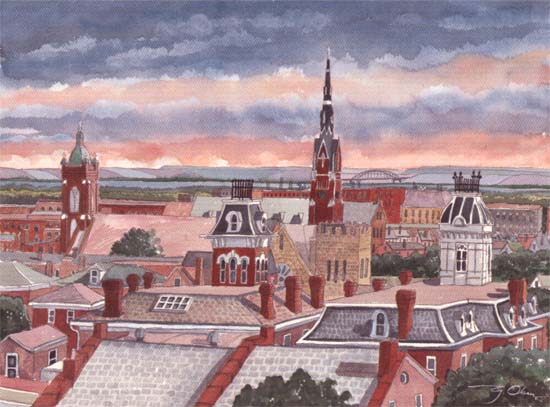 Rooftops II, Dubuque, IA.

This is a painting of my hometown. I've been painting cityscapes for nearly 30 years. The title is Rooftops II and the image area measures 15 x 19 inches. The original is a watercolor which has been published as a limited edition print available through Creative Touch Gallery, Dubuque, IA. You can call them at 563-556-6279.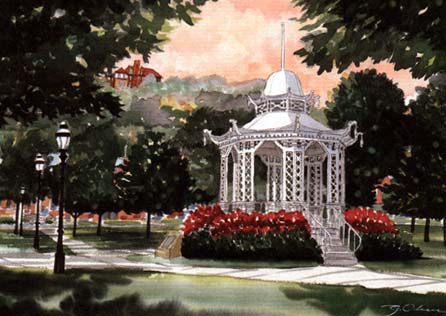 Gazebo in Washington Park, Dubuque, IA.

This is the Gazebo in Washington Park, Dubuque, IA. I've painted this scene several times, and this summer view is my favorite. It is available as a limited eiditon print, and the image area measures 15.5 x 19 inches. It's available through Creative Touch Gallery, Dubuque, IA.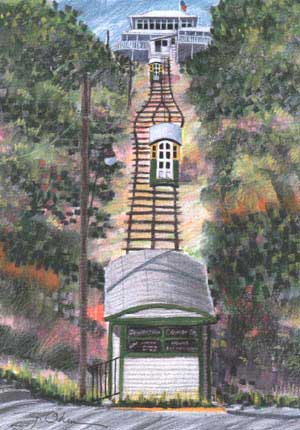 The Fourth Street Elevator, Dubuque, IA.

The Fourth St. Elevator, the world's shortest railway, was built in the 1800s by a wealthy banker in Dubuque as a shorter conveyance from his home on the bluff to his bank in the dowtown area below. It was modeled after similar inclined railways built in Switzerland. The image area measures approximately 15 x 19 inches. Print available from Creative Touch Gallery, Dubuque, IA.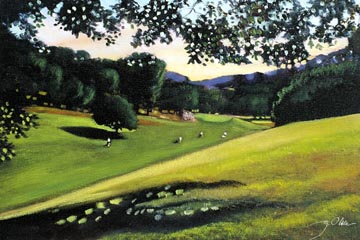 Number 11 Bunker Hill Golf Course, Dubuque, IA.
This is one of four signature golf holes from four different courses in the Dubuque, Iowa, area. Each landscape represents not only the most challenging, but most picturesque hole a particular course has to offer. These prints are marketed exclusively through Creative Touch Gallery in Dubuque, and they come four holes to a single poster as well as the images split and individually mounted for those golfers who want a single picture from their favorite course.