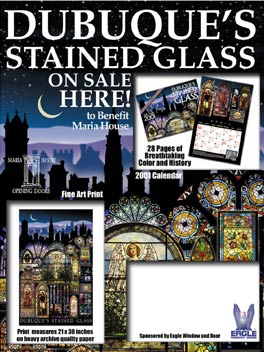 Click on the file above or at right, and you can download a copy suitable for printing on your inkjet or laser printer.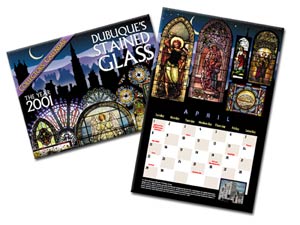 | | |
| --- | --- |
| | This is a color photo of Gary Olsen, Bryce Parks, and Brad Parks, the three creative principals behind the making of Dubuque's Stained Glass Project. Also on the page is a black & white version of the same photo. |
| Final Print | This is the final print which you can use to illustrate an article. It's a color jpeg which can be opened in PhotoShop, changed to CMYK, or grayscale, and you can save it in the file format (tif, pict, jpg) which is most suitable for your page layout program. |
| Sales Poster | This is a sales poster (lower left) that can be printed to an 8.5 x 11 inch page in your color ink jet printer. It have a blank spot for details like a sales dates and times. |
| Calendar Clip Color | A wonderful shot of the calendar cover and open spread. Jpeg RGB file can be imported in PhotoShop resized smaller to gain resolution, and optimized converted to CMYK for commercial print. |
| Calendar Clip Black & White | Black & White version of above graphic. Import and resize smaller to improve resolution |
| Gary's Photo Color and Black & White | Photos of Gary Olsen in color and black & white, principal designer on the project |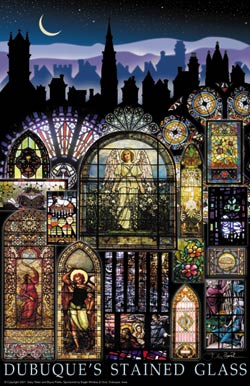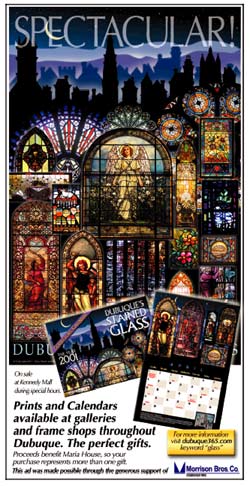 See lower right for Acrobat File Download Instructions.

The Project's Production Diary

To the Project Description Page
Print Details: At left is the final print. Its published dimensions are 21 x 30.25 inches. It's printed on heavy, archival quality paper. The photography is totally digital. No film was used at any time. Images were captured in available light using the Sony DSC F505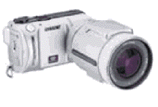 digital camera. The camera uses a Carl Zeiss all glass lens and 2.1 megapixel resolution. The images were downloaded to a computer workstation where they were resized, keystoning and distortion removed and colors optimized. Primary software used for image manipulation is Adobe PhotoShop 5.5 and 6.0. The file is multilayered with each window on its own layer to manage levels of transparency, and composition (placement in the space).
The background image was totally rendered from scratch by Gary Olsen based on the most popular skyline images in Dubuque's cityscape. You can readily identify St. Raphael's Cathedral, St. Patrick's and St. Mary's Catholic Churches, and St. John's Episcopal Church. The Ryan House cupolas can also be identified. Rooftops and chimneys are reminiscent of Dubuque's Golden Age of Victorian architecture featuring mansard roofs of the French Second Empire style, and steep roofs of the American Gothic style.
Windows were selected for the print based on how best they captured the design and production technique favored. For example, architectural and window design styles tended to fall into five design categories: Gothic style, Art Nouveau, Art Deco, Modern or Post Modern. Windows were crafted in America, Germany, France and England.
How Windows Were Selected:
How windows were included in this project was not a juried competition by any means. We sent out letters to all Dubuque churches asking for permission to photograph windows. Not all responded, and those who did were immediately on the top of our list. We followed up with churches who did not respond, and managed to include a few more in this project. Fortunately, the churches and residences we absolutely wanted to include in the work (St. Luke's, St. Raphael's, Nativity, St. Mary's, St. Johns, and First Congregational) all responded immediately and enthusiastically to our invitation. There were many more windows we would have liked to feature, but there just wasn't enough time nor space for a truly comprehensive study of windows. We are confident, however, that we have included some of the best.
The Morrison Bros. Co. Ad (left)