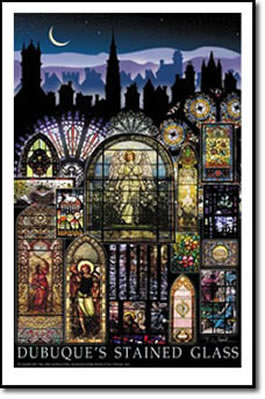 How This Project Was Organized
Information About Our Sponsor and Charity

The Project's Production Diary
The production diary is a day-by-day report on the evolution of the project.

The Press Page and Publicity Kit
Posters, photos, and other printable and useful items are available here for media, churches and art galleries and frame shops.
We took our camera to Union Hoermann Press to record our work being skillfully duplicated.
A useful and informative key to the individual images that comprise the print's composition.
Click on the image above to see a larger version.
How it All Got Started:
Several months ago, Dubuque banker, Jeff Mozena, on behalf of Maria House for women and children in need of emergency transitional housing in Dubuque, approached me on the topic of a limited edition art project in the tradition of The Millennium Print.* "What do you think of the stained glass windows of Dubuque?" he asked me. Jeff is an old friend. We both knew of the treasure trove of spectacular stained glass windows that could be found in Dubuque, Iowa. I was immediately interested in the project.
The concept from the start was a photographic collection of the best windows in the city to be combined in an art print, but I also wanted to do a calendar (as we did with the Millennium Print) and perhaps produce a video documentary of the project. For all of this, I would have to have a creative and production partner, not to mention sponsors. I called my partners from the Millennium Print Project, Bryce and Brad Parks of Parks Media Group. They would handle the sponsors, sales, distribution, as well as some of the critical production details. We had such fun last time we did something like this, I thought, "What the heck... maybe we are on a roll."

We sent out letters to churches we knew had some notable windows. We asked them for permission to photograph and publish the photos. And, we offered sponsorships for the calendar. We had already secured a primary sponsor, Eagle Window and Door of Dubuque (how appropriate). We had no idea how popular this project was to become, and soon, we were getting inquiries from organizations and other sponsors who wanted to jump on board.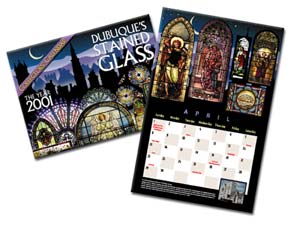 Here's how we turn this into a profitable venture for all involved. First, we secure a primary sponsor who can at least cover the production of the limited edition print. We want to meet all of our immediate costs as soon as possible. Then, we round up other sponsors to cover the cost of the calendar. Each sponsor, plus the lead sponsor, get their own month. Sponsors cover all of our printing costs. We don't have to apply sales dollars to pay bills. This keeps the accounting organized. There are some risks involved, of course. What if the print doesn't sell? One has to create a compelling piece of art that enough people are interested in having.
Of late, I've taken to doing commemorative, almost documentary-style art pieces designed to mark time, or identify a hidden treasure. The Millennium Print Project unearthed all kinds of buttons, badges photos and memorabilia that people in Dubuque could relate to. I involved a lot of people in the project, and it was heavily promoted. Millennium was extremely popular for the simple reason it was the Millennium! People were looking for tangible ways to mark the event, make it real, and celebrate the past as well as the future. Will the stained glass piece inspire as much enthusiasm among collectors? Who knows? At the very least my name is recognized by a lot of Dubuque people who have purchased my work in the past. There is risk and doubts with every new venture. But this time, I have a creative partner in Bryce Parks who is a fine designer in his own right. I'm thrilled that I've had the opportunity to work with such a fine young talent.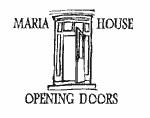 We tour the churches and photograph the windows of our choice. Bryce shoots stills as well as video, and we get interviews with church members who know something about the windows. The video documentary will be a project we do later, and hopefully have ready before Christmas for airing on local cable. Finally, we meet with our sales channels are the churches and the sponsors to distribute the finished products. Area galleries, frame shops, and bookstores are picking up calendars and prints. The project appears to be another success.
Gary Olsen