The Millennium Print is a Huge Success!
See it in a variety of frame and matting styles at Creative Touch Gallery in Dubuque, 3460 Hillcrest Road.

Press people: Please click on the camera for valuable resources you may use for your stories about this work of art.
News Flash: The Millennium Print, Calendar and Video win Addy Awards at Dubuque Area Ad Club Competition. Print to go on to National competition!
Honors were bestowed upon Gary Olsen and his creative partners at the February 4 Addy Award event at Dubuque's Greyhound Park. The event is held to give recognition to the best and brightest concepts and promotions developed by the advertising and creative groups that ply their collective trade in the Dubuque area. Everything from print to video, from advertising specialties to radio spots are submitted. Seasoned advertising professionals are customarily brought into Dubuque from cities like Denver, Phoenix and Chicago to judge the entries. Dubuque's Millennium print was included with other allied projects which won three first place Gold Awards, two Silver and one Bronze in such categories as print quality, video, and promotion concept. At the last minute, the video, produced by Bryce Parks or Parks Media Group, entitled, Dubuque's Twentieth Century, a Musical Documentary, made the judge's list of Dubuque's best. And to add icing to the proverbial cake, the print will go on to National Competition among Dubuque's Top 15. What an honor!
What is undoubtedly the most popular print of Gary Olsen's long career as an artist in Dubuque, Iowa, is selling at a brisk pace. At the opening celebration at Creative Touch Galleries in Dubuque, 100 were sold in just three hours! Within just three weeks of its release, over 500 were sold. "I have never seen such enthusiasm for a local artist," says Mike Kaesbauer of Creative Touch. It could be the most popular print we've ever carried." Order yours now by calling Creative Touch 563-556-6279. Special discounts are available.
Print Specifics: The basic print measures 39.5 x 22 inches. However, larger sizes are available.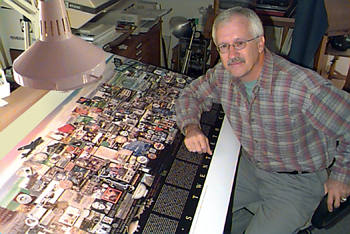 Very Special Limited Edition Versions:
Larger Prints Available: There are two additional larger sizes: 48 x 24 inches, and 64 x 36 inches. Each of these sizes are custom printed, one at a time and are available by special order direct from the artist.
The 48 x 24 inch print is available completely mounted on FoamCore and laminated ready to frame.
The 64 x 36 inch print is available mounted on foamcore and laminated. It's ready to frame. This is a huge mural-like piece, perfect for a commercial space.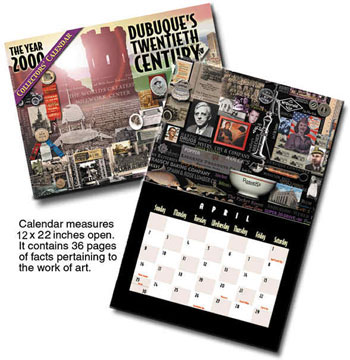 Announcing the Millennium Calendar!
Several businesses throughout the Tri-State Area are carrying this calendar. Watch for it at Hartigs Drug, Hy-Vee, Lifetime Center, Graham's Style Store for Men, First Star Bank and several other participating sponsors. The proceeds from a portion of sales dollars will benefit charities in the Dubuqueland area. The Calendar contains a different portion of the print for each of the 12 months, plus a detailed and entertaining narrative of nearly all of the items featured in the work of art. Price is $12, and a portion of proceeds will benefit Dubuque's Lifetime Center, an organization that provides education opportunities, meals and community activities for senior citizens in Dubuque.
About the Artist and the Project: Gary Olsen, a long-time resident of Dubuque, Iowa, has been commissioned to design the graphics for an event celebrating the New Millennium. On this page are some treatments using his graphic design and color scheme. Gary is best known to Dubuquers as the "resident artist." His paintings of Dubuque scenes are highly recognized and collected. Please visit the rest of his Web site for a virtual gallery experience.
Below on this Web page is Gary viewing the very first artist's proof of the image above as it rolls off the printer. This first copy is going to historian, John Tigges, who will add a lyrical narrative to "Dubuque's Twentieth Century." A key is also being prepared, which will accompany the print, providing the viewer with means of identifying all of the items featured in the composition.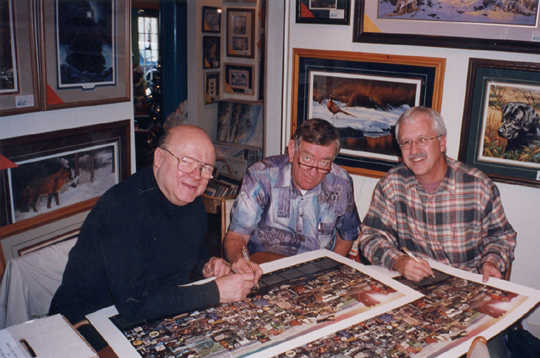 (From left to right), John Tigges, who wrote the historical time line, Jim Shaffer, photographer and photo collector whose many contributions are featured in the composition, and Gary Olsen. "Dubuque's 20th Century" is the title of this unique print commemorating the most significant events, people and places that defined the city of Dubuque during the last 100 years. The image above is far too detailed for you to examine the elements of the composition carefully due to the Web's limitations on resolution and file size. Nonetheless, there is enough here to give you a general flavor of the piece. Gary has been posting it here in its developing stages so that those involved in collaborating with him can view his progress. It's covered with many never-before-seen images, memorabilia, pins, badges, keepsakes, all from collections belonging to friends and acquaintances in the Dubuque area.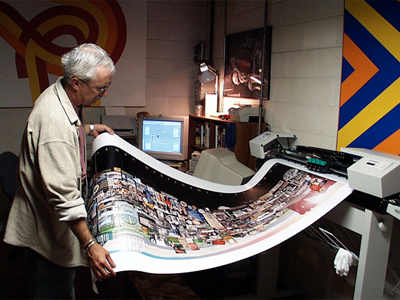 "What's neat about this project," explains Gary, "is it captures many of the things that make Dubuque such an interesting place. For example, each item used in the composition has some significance or is evocative of a memory that many Dubuquers cherish. From Betty Jane Candies to a menu from the Triangle cafe, a postcard from Union Park, an engraving of Farley and Loecher, one of many millworking companies no longer operating in Dubuque, but which contributed to the area's most prosperous growth, a baseball from Petrakis Park, a bus token from the Dubuque Electric Railway. The collection starts with images captured in 1900, and continues to the year 2000, hence the working title, 'Dubuque's 20th Century.'"
What's also interesting about this project is the reaction one gets from viewers. At recent showings, people stood in front of the piece and closely examined it for the longest time. Dubuque natives frequently launch into storytelling upon seeing a particular image or familiar name. "It's quite magical," explains Gary. "People actually interact with the piece, and if they are accompanied by a friend or family member, they regale each other with memories and stories evoked by something they saw in the composition. I guess you could say, this is my first really interactive artistic work."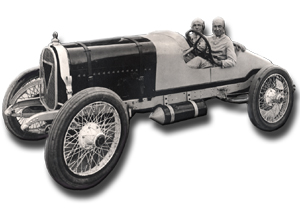 Gary has five collaborative sources on the project which include, James Shaffer, one of Dubuque's greatest photojournalists, John Tigges, an author and acknowledged expert in Dubuque history. The third collaborator is the Loras College Center for Dubuque History, an archival treasure trove of all things Dubuque, thanks to curator, Mike Gibson. Many of the three dimensional objects are from the collections of Fran Henkels and Bob Reding. Fran is a life-long Dubuquer and attorney. Bob is an antique dealer and self-described "Dubuque nut." His collection of Dubuque material is vast and could fill a museum.
Letters:
Greetings Gary and Linda,
Just received my Millennium Print back from the art frame shop here in Vista and had my first chance to take a closer look after the holiday rush of picking it up and shipping it from Dubuque. It is really something to hang on the wall in our house where visitors can be transfixed by its detail !!! Just like an entire history book in one shot.... I love the depth,
detail and resolution of every image.... Thanks for such a meaningful way to mark the turn of the Millennium from DBQ !!
I spent my first 34 years in Dubuque and have been out here in California for the next 17...... enjoying the "vacation" very much out here but I always hold a special place in my heart and mind for Dubuque.... I have collected all the Dubuque history books published by Loras, the T-H and the banks. Dubuque was such an enterprising place at the turn of the last century...... I have some of your watercolors of DBQ scenes as well, over looking my parent's house on 22nd and Jackson, the north end, the big old Victorian places up on the bluffs...... I am interested in the video on "the making of the Millennium print".... any word as to when it might be available ? Your web page is pretty super too.
Thanks, Karl J Kasel....
Vista, Ca.

From Gary: The video will be available, very soon. It's being produced and duplicated locally, and we are putting on the finishing touches. I'll keep your e-mail and let you know how you can obtain a copy. See below. Thanks for the kind words!


The Video: A video on the making of the print and interviews with the people who contributed to the composition is completed and being duplicated. You will actually go into the fascinating homes, libraries and shops of these wonderful people as they show their collections. All of the objects and photos used in the piece came from enthusiastic and dedicated collectors, preservationists, archivists, and journalists, all of whom have interesting stories to tell about the history of the objects. Watch this Web site for more information. The video has already Premiereed to enthusiastic crowds on New Years Eve at the Millennium Ball at Five Flags.