Thank you for taking the time to visit Gary Olsen's Illustration & Design Web site. We know you will agree this is an effective way to convey our studio's latest news and accomplishments. Once you get to know us, you'll discover how our energy and enthusiasm, combined with a collaborative relationship, can produce effective imagery for your product, packaging, advertising, or editorial project. Visit the portfolio.
You simply must tour Gary Olsen's Picturamas. These are constantly growing digital photo albums that Gary is producing almost continuously. Trips, events, assignments, anything that strikes a pose or appears in his viewfinder. Picturamas are sponsored by Dubuque Rotary Club (service before self), one of the leading service clubs in the Dubuque area. Visit their Web at www.dubuquerotary.org.

Gary has joined Dubuque Community Schools as a Multimedia and Public Affairs Coordinator. "It's a dream job," says Gary. "I'm in education, the mission of which is so life affirming. I'm working with friends I've known and worked with on past projects, and now I'm building a new Web site for the District. Further, I'm training teachers in our community on technology topics such as how to use Dreamweaver, Photoshop, Quark Xpress, etc. I'm teaching the teachers how to leverage technology in their classrooms to enhance their curriculum and the overall quality of instruction," adds Gary. Learn more by clicking on the District's newly deployed Web site at www.dubuque.k12.ia.us.
Need a photo of Gary for a news story? Click here and take your pick.

Clarke College, the home of Gary Olsen's Multimedia Boot Camps, Multimedia and desktop publishing applications as Quark XPress, Adobe PhotoShop and Adobe Premiere, are taught by Gary at Clarke as part of their Communication curriculum. Just completing the Web Design class and moving into the Quark Xpress class, Gary will also be teaching a special Clarke sponsored Web Design class at John Deere Dubuque Works for eight weeks starting in mid-January. Visit the Virtual Classroom and learn about Gary's classes and learning opportunities at Clarke. Stick close to this URL for more details and availability of seats.
A fantastic trip and a good time was had by all on the Jamaican Me Crazy Mon tour. We took photos of our accommodations at Sandals Beaches Grand Sport resort, and we tried out a new Sony P30 camera. Very good shots for relatively inexpensive camera.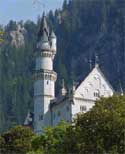 Austria and Germany: The three city tour (Vienna, Munich and Salzburg) and Bavarian mountains and countryside were the perfect environments to test the Sony DSC F505 digital camera. It is truly amazing. See the photographs from the trip and learn more about this camera.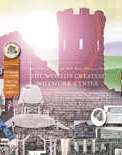 Please visit the Dubuque Millennium Graphics page! Gary received an Advertising Club Award for The Millennium Print "Dubuque's Twentieth Century." Click on the link and read all about it. This was one of the complex projects ever, involving hundreds of objects and photogaphs in an assemblage that spans a virtual 6 foot length and 24 inches high. Collecting historic artifacts spanned several months involving several collectors, historians, a writer, and a celebrated photographer/archivist. You simply have to see it to believe it.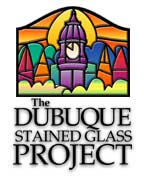 We had so much fun doing the Millennium project that we decided to follow up with another similar project... "The Dubuque Stained Glass Project." Gary has known for years of the many stained glass treasures (some hidden) that comprise one of the greatest collections of vintage architectural glass in America. So Gary teamed up with his business partners, Bryce and Brad Parks at Parks Media Group. The proceeds benefit Maria House, transitional housing for women and children who find themselves homeless or in an emergency situation. It's wonderful organization in our community. See a comprehensive Web site for this project including a press and media page, a production diary and a complete, comprehensive production description.
There are many churches in Dubuque, among them the oldest church in Iowa which contains several magnificent Tiffany windows. While doing the photography for the project, we uncovered several more Tiffany windows and some extraordinary windows that almost defy description. You simply must see these to believe them. Click on the logo above and see the project diary for yourself.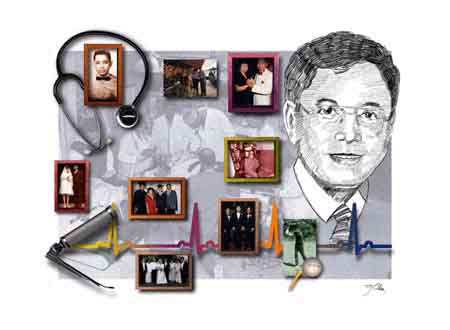 Memories of a Lifetime are more popular than ever. The Memories Gallery is growing with all kinds of new works. We've divided the gallery into two parts: A Works in Process gallery for on-line client review, and a Gallery of Collected Works where finished pieces reside. It all started four years ago when a family asked Gary to do an illustration which was to be given as a family Christmas gift. The subject... a 1950s vintage Oldsmobile which their dad had lovingly restored. "That would be cool," responded Gary, "but I may have a better idea if you're interested. Why don't I do your dad's portrait, combine it with an image of the car, and add other memorable objects and photos to the composition?" The result was one of the first examples of an entirely new artistic concept we call, "Memories of a Lifetime." less of this technique on display in this area. Don't miss them. They will

Gary's book, Getting Started in Multimedia Design, published by North Light Books, is now officially out of print, but is still available from some booksellers like Amazon.com. The book sold extremely well thanks in large part to excellent reviews from such publications as the prestigious Communication Arts Magazine. Gary is working on a new book on digital photography techniques. To learn about Gary's past writing projects on multimedia topics, click here. Gary's has continued where the book left off. This entire Web site is an extension of that publishing project. One more thing: Check out "Book Backtalk" letters from readers. It's a threaded chat. Still check Amazon to see if the book is available. We check periodically, and it's still around.

Gary has completed another PhotoShop 6 Class at Clarke College, and a Web design class as well. Next fall it will be a a new schedule of classes. Stay tuned for details. All classes are part of Clarke's Communication Major. Naturally the courses deal with the advancing technology and its impact on design and production. More importantly he teaches students how to use these wonderful hardware and software tools to be creative. How technology can enhance productivity as well as creativity is the focus of Gary's curriculum. To tour his developing virtual classroom on the Web click on the hyperlink at right. This fall, Gary's Web design class will be utilizing for the first time an on-line textbook that Gary has written himself.

And since we are on the topic of training... If you want to see some cool images by Gary Olsen's students (real people enrolled in Gary's Multimedia Bootcamp PhotoShop course at Clarke College), click here. You will see just how creative people can become with just the right combination of training, software, equipment, and inspiration. You'll see the Post Card project (on display right now) and a variety of other class projects soon to be completed. Visit the PhotoShop Student Gallery right now. Check the college class schedule at http://www.clarke.edu
VIDEO! Gary's doing movies. Check out the early samples of this enterprise on the following directory, Gary Olsen Motion Pictures.