elcome to Clarke University's Field Digital Photography Course. This is an intense, hands-on course designed to be a full immersion training activity with the learning objective of teaching students how to use this phenomenal technology. The course is designed to be an intensive four day field course that takes the students out of the classroom and into exciting photo-opportunity-rich environments.
Digital photography is not merely a technical substitute for film photography. There are unique capabilities that have never before been practical in the film world, and we intend to explore and apply these capabilities in a course that combines technology with artistic expression and visual communication.
For certain nearly 200 years of film-based camera technology is the legacy that has made digital photography possible. On the surface, there really is little discernible difference. You have a viewfinder or view screen, a lens and a shutter. The mechanics of taking a photo have not changed all that much. However, there are opportunities available to you through your digital camera and your computer to which your camera becomes attached that takes the art of photography to another dimension of creative possibilities.
What makes a technically good photograph? How does contrast serve to enhance composition ? How can contrast be enhanced in the an image editing program? How does depth of field work in the digital domain? What is the most appropriate resolution setting for publishing? For the Web? This is just a sample of the issues instructors will address in this hands-on workshop.
And here's the best part: This class is held almost totally in the field. We are raveling throughout Dubuque's Tri-state Area making photographs. We will be accompanied by powerful laptop computers on which we will store our collection for later manipulation and finishing in an image editing program.
Our goal, besides our learning objectives, is a virtual gallery of images, a veritable portfolio of our work online.
As you can see by the instructors' images at right, we will be exploring everything from landscape to still-life, from figural to portraiture, from telephoto to macro photography, from black and white to full color.
Your Instructors: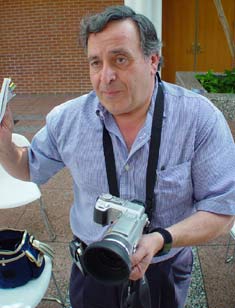 Dr. Abdul Sinno is an author, photographer, speaker, entrepreneur and advocate for the environment. Visit his web site at www.SinnoCom.com . You can learn about and sign up for photography workshops held throughout the year.
Dr. Sinno provides quality teaching, research, and public service in the academic and business environments, utilizing business and academic expertise to enhance understanding of the important social, technological, managerial, and public policy role of communication. He holds a Ph.D. in Mass Communication with a focus in Advertising and Persuasion from the University of Wisconsin at Madison. Also holds an M.A. in Journalism and Mass Communication, from the same university.
Presently, Dr. Sinno is the Chairman of the Communication Department at Clarke University. He holds the rank of tenured full professor of communication. He established the PR/Advertising major at Clarke University, Dubuque, Iowa.
He has won several awards including the Excellence in Teaching Award from Clarke University..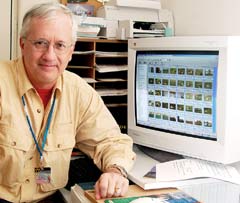 Gary is an award-winning professional multimedia producer and graphic artist who was an early adopter of filmless photography as early as 1986. Gary has written two best-selling books on multimedia technology and creativity.
Gary has taught Web design, multimedia production,advertising design, Quark Xpress page layout, and PhotoShop in Clarke University's Communications Department. However he retired from classroom teaching to devote more time to his passions of photography and film making. Gary is also retired from the Dubuque Community School District where he won several national awards for cable television and web based communication productions. Visit Gary's Web sites at garyolsen.com. Gary is also a widely published cartoonist and you can see his work on www.garyolsencartoons.com

Visual Communication Outcome
Process Outcome: The students learn the mechanics of digital photography, interacting with the camera and the subject in a variety of given situations.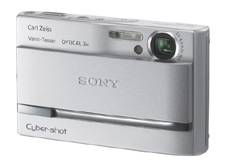 One of many cameras in the Sony Cybershot line, the DSC T-9. This extraordinary compact camera with Carl Zeiss optics delivers an astounding 6 megapixel image. Students can bring any camera of their choice to the class, but check the specs below for minimum requirements.
Camera Mechanics:
All students must have access to a digital camera which has the following minimum features:
1. 3.5 megabytes minimum resolution.

2. Aperture or shutter speed priority settings (manual as well as automatic exposure control)

3. Storage Capabilities: compact flash, memory card, smart media, or MemoryStick
The Canon 20D has 8.5 megapixel resolution and allows for a large variety of lenses. This is a professional camera in every sense of the word, yet it is reasonably priced at around $1,300 with a moderate zoom lens and a light capacity but still useful flash memory card.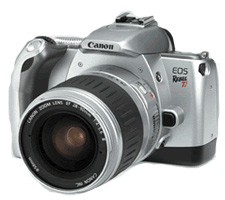 This is the Canon Rebel EOS Digital Camera that is very popular among students. It's reasonably priced, and it captures images at 8.5 megapixels just like the one above it. It also allows for accessory lenses, the same professional lenses that work in all Canon single lens reflex cameras. You can get this camera for under $500.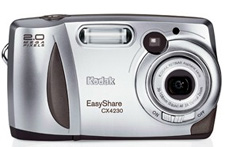 This is perhaps one of the most popular cameras with students... the Kodak Easy Share. This line of cameras takes great photos because it has an excellent lens. The ease of use is a bonus, and it may be the best camera for the computer challenged because it doesn't need a computer but can be purchased with a docking device that allows you to print nice snapshots directly from the camera. Kodak offers Easy Share cameras from $100 up to $500. The docking station is extra.
Learning Objectives:
At the conclusion of the photography course, students will have a portfolio of their own images, each of which demonstrates one or more of the following four criteria of what makes an image with visual impact.
1. Light:
The manipulation of light and contrast to portray a point of interest in the image boundaries

2. Composition:
The manipulation of the vantage point of the photographer, the camera, and the subject to depict shape within the frame or borders of the image. Included in this criteria is balance and symmetry.

3. Texture and Mobility:
The manipulation of light and color to capture texture and mobility (objects moving in and out of frame).

4. Reality:
The manipulation of the subject to go beyond capturing the moment and altering the visual reality that is portrayed in the image.

5. Image Processing:
Once the image is captured, the creative opportunities don't end. Students will learn how to manipulate an image in Adobe PhotoShop to enhance or alter the reality of the image.
Course Syllabus:
Day 1:
We meet at the Atrium at Clarke College.
9:00 AM Morning Session - to 12:30 PM. Getting to know your camera nomenclature, capabilities, and feature sets. Bring the instruction manual with your camera, please. We are going to examine how your digital camera should be set up for optimal results under various conditions. We will have an in-depth discussion of color in the digital environment, and resolution. Students will learn the appropriate resolution settings for the specific types of photographic applications. We will also examine how the camera should properly interface with the storage device and computer to which it must connect.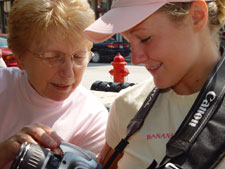 1:30 PM Afternoon Session - Dubuque Arboretum from 1:30 to 4:00 PM. We are going to test our camera's settings and lens capabilities on a variety of subjects available to us. We want to create extreme close-ups as well as landscape shots. Our goal in this class is to assess our equipment's capabilities under as many different lighting and subject depth conditions as possible. Feedback will the instantaneous from the instructors in the field.
4:00 PM Late Afternoon Break. Return at 7 PM at the Arboretum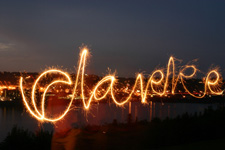 Evening Session - We resume our nature photography during the sunset hours. This is the evening "golden time," when light is at its most dramatic. Colors are warmer, shadows darker and longer. We will learn how to leverage these lighting conditions to create dramatic photographs. Students will learn how to manually override the settings of their cameras to create the most dramatic effects.
Day 2: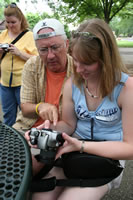 Morning Session Depart at 8 AM. This part of the day will be spent working on cityscapes, landscapes and architecture.
We want to capture three things on our digital camera:
Texture: We are trying to fill our lens and our frame with interesting animal textures. This will require close-up photography in some instances, and telephoto opportunities in other instances. We will learn the best settings to capture the texture targets we identify. Sharpness, depth of field, composition and lighting are crucial elements to employ in this exercise.
Composition: Students will endeavor to photograph topics guided by the instructors with the objective of creating an arresting composition. Cropping, viewpoint, and the rule of thirds.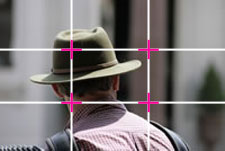 The Rule of Thirds: Break you image into thirds both vertically and horizontally. This gives you nine equal segments. Your objective is to compose your image by determining the four parts of the image your are capturing as the most important points of interest.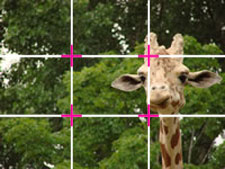 The theory is that if you place points of interest in the intersections or along the lines. your photo becomes more balanced and will enable a viewer of the image to interact with it more naturally. People's eyes usually go to one of the intersecting points most naturally rather than the center of the shot - using the rule of thirds works with this natural way of viewing an image rather than working against it.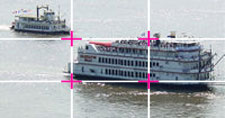 Here are three examples of how points of interest in the photo line up or are very near the points of interest on the grid.
Many amateur photographers determine their points of interest and frame their shots with the subject or point of interest smack dab in the middle of the frame which is far less interesting than if one reframes their point of interest to align it near one of the intersecting points of the grid.
In composition you are continuously working with the aspects of symmetry, asymmetry, color, and contrast, all of which combine to create balance in an image. Many amateur photographers confuse balance with symmetry. Balance is the manipulation of visual interest with unity, variety and the composition of shapes in a frame along a vertical and horizontal axis. If shapes in a frame are arranged just so, it has power to lead the eye to specific points in the composition.
This is an extremely important tool of the artist, and among many visual communicators, this talent is second nature. But for most people who do not communicate visually, it must be learned.
Balance in a composition can be achieved by several means in photography and art besides arranging objects in a frame. It can be achieved by using color, contrast, and even texture. These elements of design actually serve to form shapes in a composition under the right circumstances.
Movement: How do we show movement when none may exist? How do we capture movement or anticipate movement in a scene so we can capture it at the appropriate moment? We will learn how to capture as well as show movement through the adjustments of our camera and our environment.
Evening Session: We have some spectacular vantage points from which we take students to take exciting night shots. Bring appropriate clothing.
Day 3: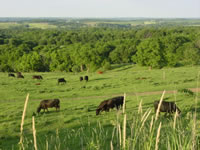 8:00 AM Morning Session - to 12 Noon. Photo journal opportunity. We tour the countryside around Sherril and Ball Town with emphasis on the landscape.
The student's photographs will cover three different photographic compositions: 1. The close-up, 2. telephoto, 3. Wide angle reference and range.
Our objective with the telephoto is to flatten perspective.
Our objective with the close-up is to show details and character.
Our objective with the wide angle is to show drama or dynamic reference... objects in relationship to their environment.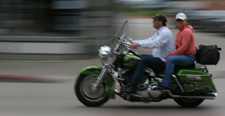 1:30 PM Afternoon Session - to 4:00 PM - We are downtown in Dubuque, Iowa in the afternoon. We will be recording the city's great historical architectural treasures. Students must approach the assignment as a photo journalist. The assignment is to capture architectural signatures that characterize buildings of specific architectural periods in the city's growth. The purpose of this assignment is to illustrate an article on Dubuque historic character that is found in its homes and neighborhoods. and scenic photography. This class will stress composition and the capitalization of lighting opportunities to create the best photographs. Advanced composition opportunities where we photograph different scenes and objects to be combined later in PhotoShop.
7:00 PM Studio and Portrait Photography until 10 PM. Students will convene at Gary Olsen's studio at 2745 Andrew Court for a portrait session in which the students themselves will be the subject of individual portraits. All of the elements of lighting (studio and flash), background, and subject manipulation will be covered in this hands-on experience.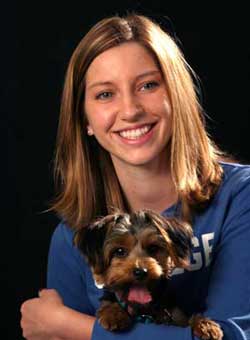 Our students pose for each other in the portrait segment of our course. Here's Tara Griffen posing with instructor Gary Olsen's dog, Daisy. The point is to add an ingredient of unpredictability to the session, which Daisy certainly did. And the students had to illuminate their subject, position themselves and their cameras in a way that capture both the dog and subject in focus. Click on photo to view enlargement.
Day 4:
Morning Session: 8:00 AM to 12:30 PM Classroom session in the Communication Computer Lab with PhotoShop. Here we will take our best image samples from the previous three days and prepare portfolios for the following applications;
Archival: Learning how to move images from the camera and media to the computer where they will be stored and entered into a database of images. From this database, images can be viewed via a Web browser, and repurposed in a variety of other applications on your computer from Word to PowerPoint. We will be using PhotoShop. Photos will be catalogued and optimized for printing and the Web simultaneously.
Photo Manipulation: We will take our landscape elements from our previous sessions, and combine them in a totally new and different composition.
Preparing our Gallery images for Printing. Students will optimize and prepare their images for our afternoon session at Ron Shaw's Digital Designs where we will be printing our students' best works. Students will have to cover the nominal cost of printing.
1:30 PM Afternoon Session: 1:30 PM to 5 PM - The Print Shop - The entire class will convene at Digital Designs (next to Anderson Weber Mercury, Toyota). This is a full large-scale printing operation specializing in digital printing. We will bring our disk-based media containing our photographs for owner, Ron Shaw to print.
Grades will be determined on three criteria:
1. The quality of the student's body of work created during the course
2. The results of an oral exam (a series of questions posed by the instructors).
3. A final paper written and illustrated by each student and due two days after the course concludes. Further details on the outline and objectives of this paper will be covered in class.
Instructor Gallery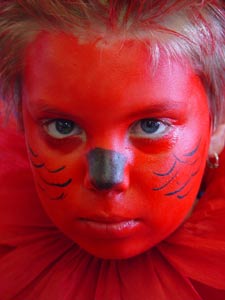 Red Face - Gary Olsen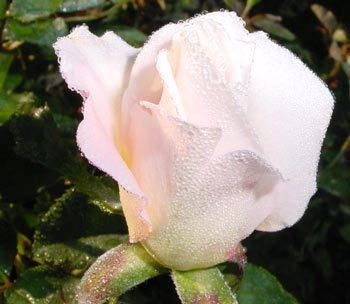 Dew Covered White Rose - Abdul Sinno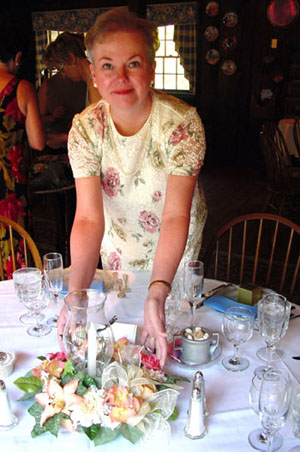 Inga and the Table Arrangement - Gary Olsen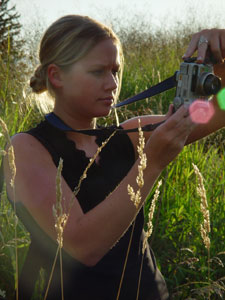 Student photographed on safari - Gary Olsen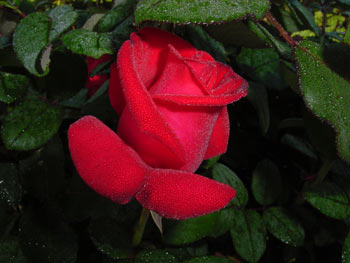 Red Rose - Abdul Sinno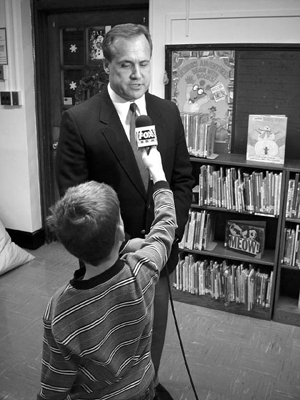 Interviewing the Congressman - Gary Olsen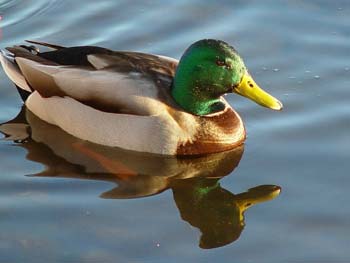 Duck - Abdul Sinno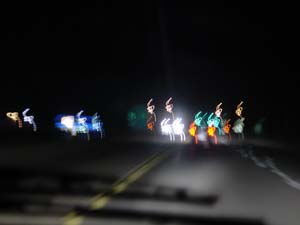 Ghosts Crossing the Arterial - Abdul Sinno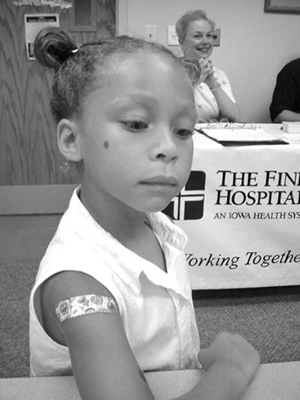 The Bandaid - Gary Olsen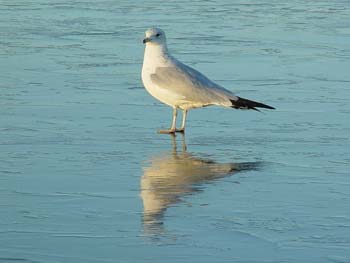 Ice Symmetry -Abdul Sinno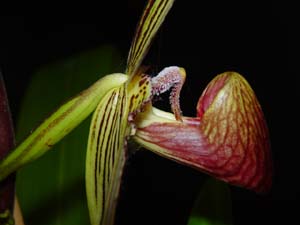 Heart of the Orchid - Abdul Sinno