Source: Telegraph Herald, Dubuque, Iowa, Thursday, December 7, 2000, Arts and Entertainment Section

---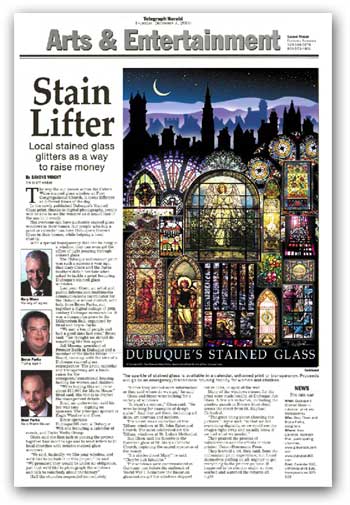 Stain Lifter
Local stained glass glitters as a way to raise money


by SANDYE VOIGHT

News You Can Use

What: Dubuque's Stained Glass - calendar, print and transparency

Who: Gary Olsen and Bryce Parks, designers

Where: Area galleries, Kennedy Mall, participating churches, www.garyolsen.com and www.dubuque365. com

Cost: Calendar $10, unframed print $35, transparencies $25-$35

___________

he way the sun moves across the Calista Wales stained glass window at First Congregational Church, it looks different at different times of the day. In the newly published Dubuque's Stained Glass print, thanks to digital photography, people will be able to see the window as it would look if the sun lit it evenly. Not everyone can have authentic stained glass windows in their homes. But people who buy a print or calendar can have Dubuque's Stained Glass in their homes, while helping a local charity.
With a special transparency that can be hung in a window, they can even get the effect of light pouring through colored glass. The Dubuque millennium print was such a success a year ago, that Gary Olsen and the Parks brothers didn't hesitate when asked to tackle a print featuring Dubuque's stained glass windows.
Last year, Olsen, an artist and public information/multimedia communications coordinator for the Dubuque school district, with help from Bryce Parks, put together a digital collage of 20th century Dubuque memorabilia. It was a companion piece to the Millennium Ball, organized by Brad and Bryce Parks. "We met a ton of people and had a good time last year," Bryce said. "We thought we should do something like this again."
Jeff Mozena, president of Premiere Bank in Dubuque and a member of the Maria House Board, came up with the idea of a Dubuque stained glass retrospective. The print, calendar and transparency are a fund-raiser for the emergency/transitional housing facility for women and children. "We're hoping this will raise about $10,000 for Maria House," Brad said. His role is to oversee the management details. Brad, an underwriter, said his job was easy - signing on sponsors. The principal sponsor is Eagle Window and Door.
Bryce operates Dubuque365.com, a Dubuque Web site featuring a calendar of events, and Parks Media Group. Olsen said the first task in putting the project together four months ago was to send letters to 20 local churches with notable stained glass windows. "We said, basically, we like your window, and we'd like to include it in this project," he said. "We promised they would be under no obligation, just that we'd like to photograph the windows and talk to somebody about the history." Half the churches responded immediately.
"Either they wanted more information or they said where do we sign," he said. Olsen and Bryce were looking for a variety of windows. "It wasn't a contest," Olsen said. "We were looking for examples of design styles." And they got them, including art deco, art nouveau and modern.
The oldest was a collection of five Tiffany windows at St. John Episcopal Church. The most celebrated are the Tiffany windows at St. Luke's Methodist. But Olsen said his favorite is the Bavarian glass at St. Mary's Catholic Church, depicting the sacred mysteries of the rosary.
"It's stories about Mary," he said. "They're just fabulous." The windows were commissioned in Germany just before the outbreak of World War I. Somehow the Bavarian glassmakers got the windows shipped out in 1914, in spite of the war.
Many of the windows chosen for the print were made locally, at Dubuque Art Glass. A few are in homes, including the window panels in Bryce's front door, across the street from St. Raphael Cathedral.
"The great thing about shooting the pictures," Bryce said, "is that we did everything digitally, so we could see the images right away and usually knew if we had what we needed." They praised the process of collaboration and the efforts of their printer, Union-Hoermann Press.
They learned a lot, they said, from the millennium print experience, but found themselves pulling an all-nighter to get everything to the printer on time. It happened to be election night, so they worked and watched the returns all night.

How the Project was Organized and Sponsored

Visit the Project's Press Page and Publicity Kit

Visit "A Day at The Print Shop"

Back to Project Diary and Home Page