et Projects represent Gary Olsen's interpretation of the traditional pet portrait. He's done a lot of pet portraits over the years including cats and dogs of every size shape and description. But now, with digital technology, so much can be incorporated into this portrait of a special family member.
For example, a friend of Gary's asked him to do his hunting dog, Baron, a wonderful yellow Labrador retriever. When Gary asked for a photo album, duck calls, and other hunting paraphernalia, the client wasn't exactly sure what Gary would come up with. The result is more than a portrait... it's an evocative, icon that captures a lot more than a favorite pet's caricature. Great hunting trips, puppy antics, shots of friends and family members, and the little things that comprise our fondest memories of our best friend. Click on the image below to view details.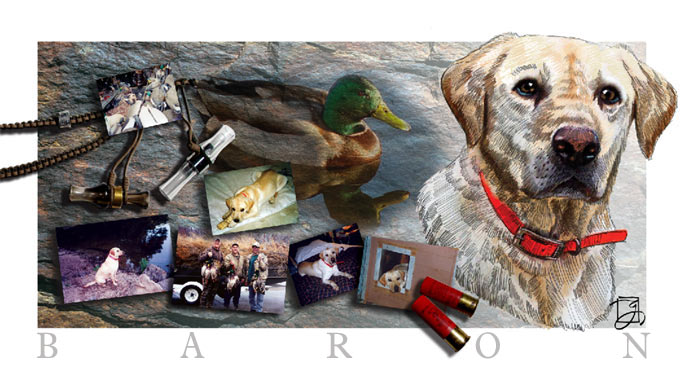 The sketch and final color illustration below is of a friend's beloved shelty that passed away. All she had of Allison was some family snapshots, several of which were fine for the reference that Gary used to create the portrait. Click on the image below to see details.