I had a wonderful time working on this project. I started planning it a year ago. About 6 months into the project, I completed research and preliminary photography of several of the boats that regularly visit Dubuque. The entire canvas took 2 months to complete, and the surface was still tacky when I delivered it to my framer, Creative Touch Gallery, in Dubuque. The entire project was designed to correspond with another community project I'm working on, the Dubuque Gateway Project, that will raise funds and build five new welcome signs for the City of Dubuque.

elcome to my studio. Above, this photo was taken with my digital camera on a tripod. I used the automatic timer. It took me a couple of tries, but it didn't turn out too badly if I do say so myself. You can see my brushes (I've got a hundred of them), my palette, my prized easel. I've had this easel for 25 years. Meanwhile, the painting and the easel are on loan to the National Mississippi River Museum and Aquarium at the moment. I'm so busy with the prints, I haven't the time to paint at the moment. The easel provides a stable platform and the Museum a secure place to display the painting. Below are photos that show the paitning in its new frame from Creative Touch Gallery and Frame.

The subject of my painting is the upcoming Grand Excursion. This event is scheduled to occur in Dubuque on June 27, 28, and 29. According to www.grandexcursion.com, "The Grand Excursion 2004 celebrates the renaissance of the upper Mississippi River region by recreating the 1854 train and steamboat expedition that brought worldwide attention to what was then America's wild, western frontier."

uring the Grand Excursion 2004, communities all along a 400-mile stretch of the Mississippi River, from the Quad Cities of Iowa and Illinois through the bluffs of Wisconsin, to the Twin Cities of Minnesota, will host not only the boats and their passengers as they embark and disembark along the way, but these communities, Dubuque included, will hold fabulous celebrations, recreational, educational and cultural events as the boats land.

My painting began last spring with several trips to East Dubuque, Illinois' highest bluff overlooking Dubuque, Iowa, a perfect vantage point for the many boats that already were making Dubuque a stop on their passenger trips. The Mississippi Queen, American Queen, and the Delta Queen are depicted in my painting. Also three area boats including the Julia Belle Swain, the last boat built by the historic Dubuque Boat and Boiler Works, now the home of the National Mississippi River Museum and Aquarium.

My friends, Rob and Chris Apel live on that bluff and would call me the moment a boat would steam into port. It was always fun to run up to the Apel house, camera in hand. They have the best view of our city overlooking the Grand Harbor Hotel and Grand River Center.

This is the second painting in which I've used water soluble oil paints. I used a combination of Winsor Newton and Grumbacher Max, and they behave almost identical to one another. They are incredible, possessing all of the characteristics of regular oils but without the smell and mess. I use special brushes, now, that have acrylic handles that don't absorb moisture which shortens the life of ordinary brushes.

I purchase, prepare and mount my own canvases. I occasionally buy ready made stretcher bars, and canvas... even pre-stretched canvases. But for this one, no stretcher bars existed to accommodate the long dimenstion. So I visited Lowe's Home Improvement store, and I picked out the straightest, clearest 1x2 inch pine I could find. I cut them on my Morso miter axe (better than a saw).

I also purchased from Lowe's all of the brass fittings, corner braces and screws I needed to fit the pieces together. It was a fun afternoon fabricating the frame and stretching the canvas using my Frederick's canvas pliers and my trusty staple gun. When it was finished and gessoed, it stretched as tight as a drum head.

Click on the images above to download larger, more detailed images of the painting as it was a work in progress. Keep in mind there were still a lot of details I was stilll working on. The entire canvas measures 72 inches long and 18 inches high. With a frame, the entire piece easily measures nearly 8 feet in length. A portion of proceeds raised by sales of the print will go to the Rotary Club of Dubuque to finance permanent welcome signs to our city.

There will three sizes of prints available.

The Edition of 1,000

A limited signed and numbered edition (see below) that is printed on high-quality art paper 37 x 15.5 inches. The print retails for $50.

The Open Edition Individualized Custom Digital Print

The Open Edition Individualized Custom Digital Print that can be any size up to say 86 inches long (72 x 18 inch image area). These very special prints will be priced accordingly, and more information is available as we negotiate the logistics of producing, mounting, framing and delivering a print of this size. Such prints are produced by a digital printing process and the image can be printed on canvas or high-quality paper mounted on board. Once again, the size of the image and the space in which it is to be hung must be considered.

The Half Size Open Edition Print

This smaller version on identical paper as the original 1,000 edition print will be available later this spring closer to the time of the Grand Excursion. This smaller version is designed for delivery to retail stores and gift shops already in a frame or matted and shrink wrapped for easy cash and carry sales favored by tourists and visitors to our area. These prints will be signed but not numbered. Prices will depend on the value of the matting and frame materials offered by the distributor of this print, Creative Touch Gallery and Frame. There promises to be a substantial variety of framing material applied to this print. For more information, contact Mike Kaesbauer at Creative Touch.

Dimensions of the Published Limited Edition Print

The print edition numbers 1,000. The print measures 37 x 15.5 inches. There is a 2 inch margin top and sides (see image below). The bottom margin is approx. 3.5 inches allowing ample room for remarques and personalization. The image area measures
33 x 11 inches.

The overall dimensions of this print were carefully considered after discussions with gallery owners and frame shops. These dimensions will enable framers to use standard in-stock mattes, for example, providing countless color combinations and custom treatments. There will be a greater range of options available to the consumer and likewise a wide range of prices from the comfortable to the extraordinary.

Consulting with me on this print was Mike Kaesbauer of Creative Touch Gallery and Frame in Dubuque. I've had an association with this gallery for 25 years. They've sold many of my works both originals and prints, but mostly prints, of course. Some they've published for me. I made my first frame at Creative Touch when it was a "U-Frame-It-Yourself" shop. They had framing stations, all the tools, nails, glue and corner vises. I made one frame, and that was it. I had to make a choice... was I to paint more pictures or spend time framing? Framing requires a unique set of skills and artistic vision, and it's best done in collaboration with someone who does a lot of this kind of thing. Mike is a great friend and collaborator, that's for sure. They make my work look terrific.

Here's the final composition to show gallery owners and frame shops. A digital high resolution photograph was taken of the piece and was sent to the printer, Johnson Graphics of East Dubuque, Illinois. The limited edition numbers 1,000, and each print is signed by the artist (that would be me) and numbered.

Here's the nameplate graphic for the printer who may be logging on to this site. I often use my website as a means of transferring files to clients. Simple click on it to download the nameplate file in a SIT archive, or click here to download.

This coupon is printable and redeemable at Creative Touch Galleries on framing my print. Click on it and a printable version will appear in your browser. Send it to your printer, and you save 20% on framing

Prints are available at Creative Touch and fine gallery and frame shops throughout the City of Dubuque. The prints retail for $50. A portion of proceeds goes to The Gateway Project that will help build five new welcome signs for Dubuque. So your purchase is helping the Dubuque Rotary Club with this wonderful project.

Attention Dealers: Creative Touch is the authorized distributor for these prints and will keep the supply line filled to your galleries and frame shops. Call Mike Kaesbauer at 563-556-6279 to place your order. You can also email Mike Kaesbauer.
The Unveiling Ceremony, March 31, 2004
elcome to The Grand Excursion Painting and Print Unveiling Ceremony Album. I've been adding photos and copy to this page from the moment I started the painting. Now that you've had a look at my studio, here is the result of this particular project. These photos were taken by my photographer friend, Debbie Denlinger and multimedia mogul, Bryce Parks of dubuque365.com. They captured the event beautifully. You can click on any of these photos to download printable enlargements.

Here are some of my remarks made the evening of March 31 at the unveiling.

Remarks made at the Unveiling

I want to welcome everyone here this evening. I'm very grateful, and I hope you are all having a great time. My wife Linda is here, my father and mother in law, Francis and Leona Breitbach. Thanks Frannie for helping me set up, and thanks mother for telling us what to do. What my wife Linda forgets her mother remembers. They make a great team.

We are celebrating several different yet connected events that have converged on this 31st day in March.

First, we are celebrating the kickoff of our Gateway Project campaign. This is the Dubuque Rotary Club project for which I am the chairperson. With me tonight is my team that includes Tom Reilly, Mike Armstrong, Kevin Lynch, Kimberly Tully, Paul Hemmer, and Tony Zelinskas.

The second event we are celebrating is Dubuque's soon to be famous Grand Excursion scheduled for June 27th, 28th, and 29th. This is going to be an enormous event in our city's history, not just because it is a reenactment of the historic Grand Excursion that encouraged western settlement in the 1850s, but because it will attract upwards of 60,000 people to our levee to meet the largest fleet of river passenger boats ever assembled in the modern age.

A third event we are celebrating is an anniversary of sorts. I am celebrating my 25 year association with Creative Touch Gallery and the owners of this successful business (the Kaesbauer family) have not only helped me but many local and area artists in our community over the years. I will comment more on our association later in the ceremony.

Somehow in this little spot in the cosmic universe called Dubuque, Iowa, all of these events have converged. All of the energy and enthusiasm I have for these three events have manifested themselves on a very large piece of canvas behind me.

Without further ado, allow me to lift the veil on the original painting. Later in the ceremony we will unveil the prints to reveal the spectacular job Creative Touch has done on the mounting and framing of all these pieces.

Now, I want to take some time to thank the first sponsors who have gotten us this far in the Gateway Project.

Over the course of the last year, my Rotary Club colleagues and I have been putting together our campaign for the Gateway Project which will build new welcome signs for the five entrances to our city. If you didn't already know, I am the designer of the Gateway signs.

We are recognizing two categories of partners that have joined us in this effort. We call one category "Construction Partners." These are companies and organizations who have contributed land, bricks and mortar and most important, money, to our project. The second category is "Promotional Partners." Promotional Partners are businesses that could help us not so much with the bricks, stone, steel and mortar, but with the promotional aspects of this campaign... the printing, the pins, the replicas, and all the stuff an organization needs to advertise, promote and inform.

We have special awards that have been prepared just for this occasion by River City Gifts, and Teri and Bill Burdt. They are brilliant craftspeople, and they've done a lovely job on the Gateway replicas, and in a little while we will be raffling off two of these collectables..

Theisen's… Jim and or Chris Theisen, hopefully both are here this evening.

Diamond Jo... Carrie Tadore who provide the food for this evening

Stone Cliff Winery... Bob and Nan Smith are the official wine of the Gateway Project, and I found out that any store in Iowa, even a clothing store or a card shop, can apply for a permit to sell wine as long as it's from grapes grown and manufactured into wine in Iowa. And in celebration of the Grand Excursion, Stone Cliff is introducing a Grand Excursion Wine with my painting on the label.

Westmark/Kendall Hunt... Chad Chandlee

Hy-Vee... Chuck Donnelly

East Dubuque Savings Bank... Jan Northouse

Kirchhoff Distributing Company...Mary Lamore and Ron Kirchhoff

Kwik Stop Stores

And now we want to personally thank these people and their organizations. Will the following people come up and be recognized, and we have a gift for you.

The very first person we spoke to about the sign project is here this evening. He was the one who helped us acquire the first patch of land for our first sign southwest of town alongside Dubuque's Technology Park on Hwys 151/61. From the Greater Dubuque Development Corporation, let's have a round of applause for Rick Dickenson.

I'm happy to report that our first Gateway sign will begin construction this April (that's tomorrow) and if all goes according to plan, it will be completed in time for the Grand Excursion.

Our next construction partner is the very definition of the term… Mike Portzen Construction. They not only agreed to build our first sign, but our second one as well on land west of the city donated by Mike Portzen. Mike Portzen and Bob Baumhover are here with us this evening.

Our next Construction Partner is the Dubuque Racing Association, and Shannon Gaherty is here this evening to accept our appreciation. We applied for a grant for funds, and the DRA offered to build our first sign, awarding us $27,000.

Now representatives of each of our Promotional Partner organizations are here, and I will ask representatives to come up and accept our appreciation for their contribution to our project. They provided the funds and services that allowed us to communicate our mission to the community. They provided the marketing momentum we needed to let the city know we mean business and we are going to be successful. As I call your names,

please come up and remain alongside the lectern so we can show our appreciation and give you a well deserved round of applause. Radio Dubuque... Paul Hemmer and Tom Parsley are here this evening. Once again, Paul and Tom have proven that this is a radio town, judging by the excellent turnout this evening.

Our most recent sponsor is, of course, Creative Touch Gallery and Frame. Mike Kaesbauer who worked with me on the framing of the painting and subsequent edition of prints is here with his family, and I simply must tell a little story about a recent visit I made to gallery on Hillcrest Road. I was delivering some prints, when I saw Mike in one of the little rooms off the main gallery where there are all sorts of my prints and photos hanging... and he's showing my work to a customer. I try not to disturb them, and I go about my business. But I can't help overhear the conversation. Mike is saying to the customer, "We have the largest collection of Gary Olsen's art in the city. In fact, that was Gary Olsen who just walked by." "Really?" said the customer somewhat surprised. "I thought he was dead."

Just then the market value of my work plummeted like a stone.

The reason I want all of our Promotional partners up here for this part of the ceremony is, we are going to unveil the print right now with the help of the Dubuque Ambassadors.

You will notice that we have 10 additional pictures to unveil. Each of these represents a different frame and matte style designed by Creative Touch. But here's the best part. Our promotional partners, those with places of business that have substantial customer traffic, will be getting to take one of these framed pieces as an additional gift of thanks from The Gateway Project Team and Creative Touch Gallery and Frame.

We only ask one thing in return and that is you put these on display to help promote the Grand Excursion and the Dubuque Gateway Project.

And now we unveil the prints.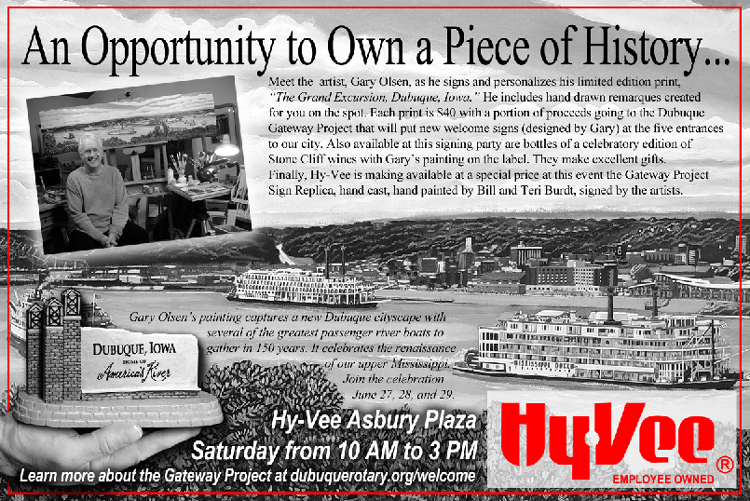 Download Official Biography and Photo in PDF format (layered Adobe Photoshop file suitable for editing)
Download Official Biography and Photo in JPG format (smaller file)