The DSO Website has a very convenient online donation page, safe and secure. Remember to click on "Type of Gift" field and choose Gary Olsen and it will automatically put his name in that field.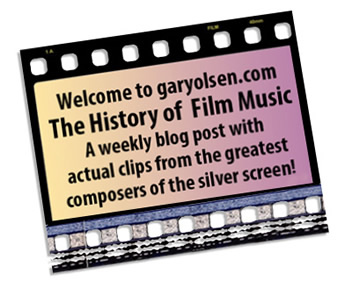 Movie music is my passion. Have a listen to a sample of my collection of film score favorites. These are actual clips you can play!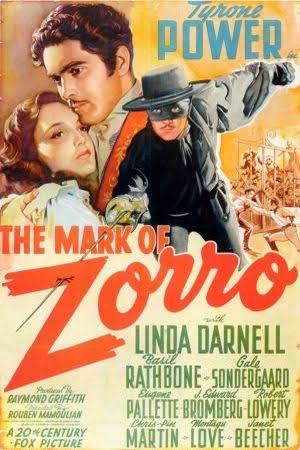 Music composed and conducted by Alfred Newman for Twentieth Century Fox (1940) Play Newman's Mark of Zorro Overture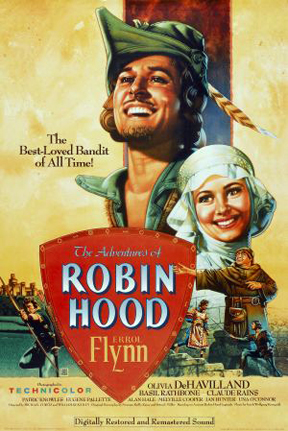 Music Composed and Conducted by Erich Wolfgang Korngold for Warner Bros (1938). Play Korngold's The Adventures of Robin Hood Theme
More about the Dubuque Symphony Orchestra
All monies raised from Pursuit of the Podium are considered undesignated, meaning they don't benefit any one particular program. Rather, they provide support for the entire operation. To give you a scope of what we do here at the Dubuque Symphony Orchestra, for the current 2016-17 concert season, we will present five pairs of Classics concerts, three holiday concerts, two performances of the Ultimate Rock Hits concert and a free Summer Melodies pops concert at the Arboretum.

New this year, we are offering a Saturdaymatinee of the March Classics concert which features a shorter repertoire of music and family-friendly pricing structure in the hopes that parents and grandparents will bring their children to the symphony. This event will also include free post-concert activities that tie into the "Music & Movies" theme.
Speaking of children, the Dubuque Symphony Orchestra also sponsors three youth training ensembles and performs for thousands of elementary students via the free Arts Trek educational concerts. Orchestra members visit thirteen elementary schools five times a year through our Adopt a Musician program and perform at all eight of the local nursing homes and care facilities on a two year rotational basis. Approximately 20,000 residents benefit from the Dubuque Symphony Orchestra each year.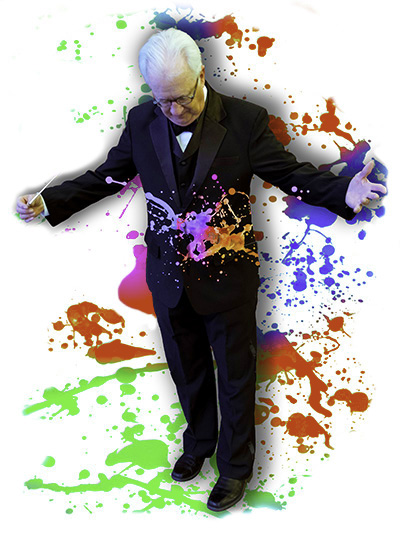 Dear Fans and Friends:

ost of you know me as a visual artist, and many of you have works of mine hanging on your walls in your homes and businesses. I'm forever grateful. When I was working for the Dubuque Community Schools, I witnessed on many occasions how participation the arts and especially music provided children with a distinct advantage in learning and brain development.

Learning how to read music, for example, strengthened math skills. Playing in a band or orchestra developed cooperation, collaboration and showed children how working together can create something greater than they could accomplish by themselves. So I was very impressed with the Dubuque Symphony Orchestra's outreach program in the elementary schools. The DSO has been making classical music accessible to young ears for more than 50 years. I promised myself if ever an opportunity presented itself, I would help the DSO in some meaningful way.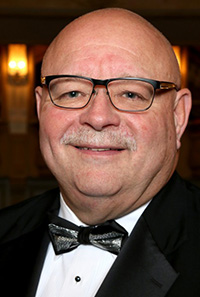 Bob Peacock
And then, a little over a year ago, my friend Bob Peacock, well known in the community for his civic involvement and a funny, warm and a perennially enthusiastic man, passed away quite unexpectedly. Bob Peacock won Pursuit of the Podium in 2014. He conducted "Don't Bring Me Down" by Electric Light Orchestra at the June 29, 2014 Summer Melodies concert. Bob had such a great experience. I really miss Bob. When I was asked to participate in this year's campaign, I wanted to do it in Bob's name… pick up his baton, so to speak, and carry on.
Through your contribution to the Dubuque Symphony Orchestra, you'll be voting for me to lead the orchestra. I'm competing for the honor among a group of Dubuque luminaries (How on earth did they pick me?). I'm frightened and anxious as you might expect having never conducted an orchestra outside of my shower. So what does inspire me musically?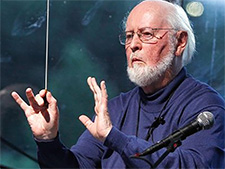 Multiple Oscar winning composer John Williams
As it turns out I am enthusiastic collector of movie sound track recordings. Of course I have John Williams Star Wars (who doesn't?), Jurrasic Park, but what about a 1957 jazz recording by the Johnny Williams Orchestra entitled "World on a String?" Yup. same guy. What I'm really excited about is vintage recordings from movies of the 30s, 40s and 50s.
Among my vintage collection is the film soundtrack of the 1938 Adventures of Robin Hood by Austrian operatic composer, Erich Wolfgang Korngold. It starred Errol Flynn and Olivia De Havelland. Among my absolute favorite film scores is The Mark of Zorro (1940) by Alfred Newman. It starred Tyrone Power, Linda Darnell and Basil Rathbone. This Twentieth Century Fox classic film and film score were named to the National Film Registry in 2009 by the Library of Congress for being "culturally, historically and aesthetically significant," and to be preserved for all time.

It was Korngold and Newman that inspired such contemporary films score composers as John Williams, Hans Zimmer (Lion King, Gladiator) and Howard Shore (Lord of the Rings and those Hobbit films).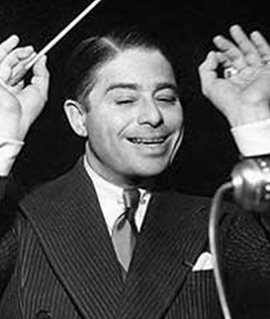 Alfred Newman, pioneering film composer at Twentieth Century Fox whose career spanned four decades from the 1930s through the 1960s.
Early in his career, John Williams worked closely with Alfred Newman whose mentorship and collaboration Williams credits as profoundly influenc-ing his own compo-sitional style.

I plan on conducting an orchestral arrangement from the film score of E.T. The Extra-Terestrial. Written by John Williams, this thrilling passage brings both heart-pounding excitement and tearful emotion to E.T. as he and his earthly young friend, Eliot, enlist the help of Eliot's friends to escape government capture and rendezvous with his returning spaceship.

The whole campaign culminates in a summer concert at the Dubuque Arboretum. If we're successful I'll conduct the Dubuque Symphony Orchestra under the stars! How appropriate!

I'm doing this because Dubuque is an amazing place to have such a resource of talent and culture as the Dubuque Symphony Orchestra. It is a prime example of this extraordinary quality of life we enjoy. The DSO generates more than $1 million in economic activity for the Dubuque area and is an important cultural outlet to the city's efforts in attracting new businesses, residents and visitors to the community. The DSO has fostered many partnerships with other community arts organizations as well as educational institutions and is an important reason why Dubuque is such a great place to live.
No amount is too small, and all donations are tax-deductible. To pledge your support to the Dubuque Symphony Orchestra while helping me in my Pursuit of the Podium, go online at http://www.dubuquesymphony.org/guest-soloists/gary-olsen. There you will find a very handy online donation page. Click on the "Give" tab at the top of the home page.
Make a donation by following these simple instructions:
1. Log on to www.dubuquesymphony.org.
2. Click on "GIVE" tab in the site navigation bar at the top of the page and an online donation form page will appear.
3. Remember to click on "Type of Gift" as you fill out the form which will automatically reveal the names of those running in the Pursuit of the Podium in that field. Please select Gary Olsen.
Please don't delay! Gifts for Pursuit of the Podium can be accepted up through Monday, April 24. The winner will be announced at our final Classics concert, which is scheduled for April 29 and 30.
See you (hopefully) on the podium.
This is for you Bob!