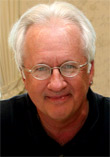 This was a fun project for my friend and fellow broadcaster, Paul Hemmer, a man I've known for 45 years. In fact, I've gotten up almost every morning with Paul Hemmer! Paul is a morning radio personality in Dubuque whom I have known ever since I came to Dubuque in 1966 to attend college. Since I had my sights set on a career in broadcasting, it wasn't long before we became colleagues in the business.
Paul taught me things about communication that I rely upon today because he was a genius at promoting and marketing. No matter what I became involved in during my career in art, communication, and media, I learned valuable techniques in one form or another from Paul Hemmer.
So when his colleagues at Radio Dubuque, a company he co-founded, asked me to create a presentation dedicated to Paul's long career in Dubuque broadcasting, I couldn't have been more proud and prepared. Fortunately, Paul's wife, Jan, had an incredible collection of photos, memorabilia, photo albums and the stuff one accumulates that when taken as a whole, can illustrate a life well spent. I'm obviously a pack rat when it comes to photos, graphics, especially pins, whistles, gimcracks and gewgaws... a lot of junk a normal person would have tossed years ago. So I thank Jan for her supremely gifted organization skills. It was as if she was prepared for me asking for this material at this precise moment her entire life.
What I've done here is provide some insights into my strategy to create the assemblage you see at the top of this page. The entire piece is still "liquid" when it's completed, as it's a digital file comprised of nearly 100 layers in an Adobe Photoshop file. This way, when the editor, Bryce Parks, of Dubuque 365INK text messaged me asking me if I would design a cover commemorating Paul, I sent him my source file of the composition. This way Bryce could recompose the objects to fit the aspect ratio of his cover. It worked well as you can see by the cover at left (click on it to reveal the enlargement).
In the master composition, there are loads of little details that are not just interesting, I think, but downright funny and as entertaining as Paul Hemmer is. Finally I want to say what a privilege and honor it is to do something like this for a friend and inspiration.
My long career in Dubuque, and my success largely mirrors that of Paul Hemmer's. We decided that we were going to grow where we were planted as the proverbial wisdom goes. Individually, Paul and I had all kinds of chances to leave Dubuque to pursue possible opportunities elsewhere, but we didn't. Instead, we sunk our roots even deeper into this community we call home. Paul and I have had this conversation many times throughout or long friendship, and we both agree that we have absolutely no regrets. And I think Paul and I agree on this, too. Deciding to "stay put" actually became the source of our strength and creativity.
Paul Hemmer's first day on the radio, early 1960s.
This is my favorite photo of Paul. It occupies the left middle of the composition. I thought it was taken by some professional photographer from the Telegraph Herald, but Paul recently told me it was not. "It was taken by somone who was visiting the radio station, and he asked if he could take my picture."
You could say that Paul was a young phenomenon back in the day. As an accomplished musician, he was already entertaining people with his own musical combo at places like Timmeran's Supper Club and the Chateau, years before he was of legal age to buy a drink in these establishments. He played the Hammond organ, and the local dealer, Renier's, featured him in a newspaper ad.
This is among my favorite photos of Paul. Judging by the collar on his shirt, I would say it's from the 1970s.
This is the main colored drawing of Paul from a photo I took at a Rotary Club ceremony. The entire project including combining all of the elements into the composition takes about a week, but the portrait takes about a day, and that's the first thing I work on.
Here's a precious photo of Paul and his broadcast partner for the last dozen years, Lisa Bennett. Two words come to mind: "sun block!" Nonetheless, It's photos like these that make the composition all the more charming.
Records for the piece were chosen carefully for the significance of their titles: Michelle by the Beatles (Paul's daughter and coincidentally daughter-ibn-law are named Michelle) and the bottom record is Mixed Up Confusion by Bob Dylan (Grandson is named Dylan).
This image, though recently taken, evokes so many memories I have of Paul and my own broadcast career. He believed Like I do that remote broadcasts are the way to promote one's "radio brand." Getting out and about, raising one's visibility, and meeting the folks face-to-face. It was the best thing a radio station could do to promote the station as well as the sponsors.
This shot of Paul was taken at a dance at a ballroom in Guttenberg, IA with the Hunter Fuerste Vintage Orchestra. Paul had his own band for many years. Click on the image above to reveal the printable enlargement.
I collected all sorts of images of vintage radios a sprinked them throughout the composition. This one was the most intriguing one... an RCA brand Bakelite radio. Bakelite was a predecessor to modern plastics. This radio is from the 1940s I think. Paul was a huge fan of radio drama and comedy, and he collected and revived the broadcast of radio's "Golden Age" throughout his career. When he was a boy, Paul might have listened to great radio drama on such a radio.
I made sure that a couple of the clock radios in the composition were set at 4:30 AM, the time that Paul had to wake up to do his show for 40+ years.
Field of Dreams, the iconic baseball motion picture with Kevin Costner, was filmed in Dubuque and vicinity, and Paul had a small role in the movie and he helped coordinate the powerful final scene in which hundreds of cars descend upon the Field of Dreams at twilight.
The Hemmer's and Olsen's are like extended family to each other, so we spend holidays and special occasions together quite often, and this shot was taken at Christmas time with his grandson, Dylan. I guess I've become the official photographer of the Hemmer Clan.
Click on this ad to see an enlargement. That's Al Sampson, newsman and now retired financial executive, back in the 60's and early 70s with Paul on WDBQ. This ad was published in 1972 and appeared the the Telegraph Herald.
This was the logo I designed for Paul's own radio station. I've since designed many radio station logos all across the country, and I can thank Paul for introducing me to the business and his many friends in the industry..