Updated Catalog of Available Original Paintings Online!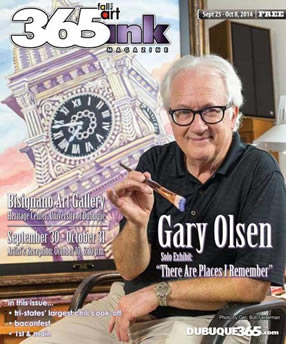 An online catalog of available original oil paintings is now deployed online, Dimensions, prices and descriptions of the subjects that inspired them are also included. Cliick and enjoy.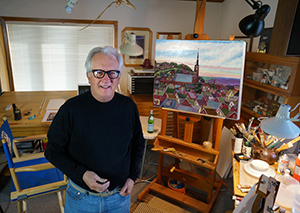 In my studio I have three strategically placed cameras to capture every brush stroke of several of the paintings I do. Then I speed up the playback (a technique called hyperlapse), and you can see a painting that may have taken me a week to complete come to life onscreen in under 4 minutes. There are always new episodes from the studio so mark this place so you can return and see what's new from Gary Olsen's Studio.
Gary's work can be seen in Dubuque, Iowa and Galena, Illinois at Outside the Lines Gallery.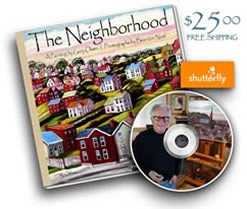 Own a copy of Gary Olsen's The Neighborhood. It comes with a DVD containing over 2 hours of episodes from his series, "Gary Olsen's Studio."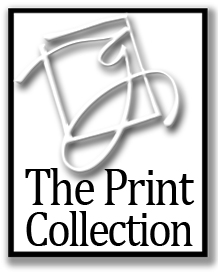 See the latest collection of Gary Olsen's works both framed and unframed. Custom sizes and substrates available
Gary does Twitter
,
Facebook and YouTu
be
not just to feed his fanbase but
to do some group
collaboration
. Many graphical
concepts,
animations
and
video
clips
are
posted
first on Twitter and Facebook.
T
here are more surprises in store. So follow our adventures! Gary
adds
, "And is Pinterest a gas or what?" We are
in it to pin it!
hat you see for sale on my website are extremely high quality prints of my originals. The prints are faithful reproductions of the original oil paintings down to the brushstrokes. These works are printed, one at a time, on a very sophisticated printing process that uses special light fast pigments guaranteed not to fade.These works are literally "painted" by a high quality process that produces a reproduction dot approximately the size of a red blood corpuscle. In fact, a single dot of pigment is practically invisible to the naked eye. The result is colors that are vibrant and true to the original. The paintings are actually printed on the same canvas used to paint the originals. 
I embarked on this technology because it makes acquiring my work affordable. Plus, rolled up canvas is easy and safe to ship in durable mailing tubes.
The complete price schedule is on my website, and the order process utilizes PayPal, a trusted on-line banking software.
On occasion I do sell my originals, but I have more people who want my paintings than I have paintings to sell, and that's why I've embarked on high-quality replicas of original works. 
Finally, I'm a regional painter, and my work is in several collections throughout the country. I'm mostly popular right here in Dubuque, Iowa because I paint familiar places that are appealing to people who have grown up and live in the region.
Welcome to my studio!
Plein Air Paint Out creates a new career path...

My artistic endeavors have for the past year taken a new and winding road. Plein Air Painting! Gary Olsen's Studio is now somewhat "road worthy," and I'm taking my show on that road. Painting outdoors is envigorating. It's fraught with perils, sometimes nothing turns out as intended, but often I am surprised by my own results. Ironically, I used to paint outdoors all the time... watercolors and drawings mostly. But I also had this 800 square foot art studio where everything is at my fingertips and I don't have setup or teardown every time I want to paint. Painting with logistical considerations has it's own challenges but also opportunities.

So I joined the throng of 60 painters that decended on my home town, Dubuque, Iowa, last October with the purpose of capturing Dubuque and environs at the height of the fall season. The leaves were just turning colors. Plein air painting is a rather large movement world wide. No cameras, no working from photos, and light that lasts maybe two hours in which you must capture your composition. I've actually worked without a sketch entirely to save time and capture the moment. It's so much fun, and I've created a portable studio that I can transport on my recumbent tricycle and literally hit the road. Watch the video above. It tells the story so much better than words.

The Rhomberg Avenue Bridge

We have this amazing park in my town (Dubuque, Iowa) that began as a flood mitigation project. For years the eventuality of torrential rains would flood basements and inundate homes in this area which was a creek before it was a storm sewer. City planners asked themselves, "Why not reclaim the land, restore the creek which would be easier to manage?" And so houses were purchased and razed, land terraced and bridges built over the creek. Upsteam, a flood control mechanism handles seasonal runnoff and excessive rains. Along the bank of the creek is a continuation of the Heritage Trail, a hiking and biking trail that connects a larger network of city trails and extends all the way to Dyersville, Iowa 30 miles to the west of Dubuque. The trail follows a picturesque section of the Little Maquoketa River along an old rail bed that was converted to a bike trail more than 30 years ago. I was impressed with this magnificent structure as it completely redefines the neighborhood of 100 year-old homes, beautiful churches and businesses. It is a civic project to be proud of.

I painted this view of one of the pictureque bridges. An instant landmark. A bicyclist can be seen in the lower right-hand corner. The print measures 28x14 inches on quality canvas, the image is enhanced by hand applied brush strokes by the artist.

$110 Free Shipping!
New Introductory Price!

28x14 inches on canvas

Canvas prints arrive rolled in sturdy tubes

Along the Great River Road- Rickardsville, Iowa

This plein air painting was created in October as the fall colors were just emerging. The location is the Great River Road (US52) north of Dubuque towards Rickardsville, Iowa.This is looking west from along the highway heading north. There are forests, divided by farm fields. I often compare the topography to "Grandma's patchwork quilt draped upon an unmade bed." The print matches the actual dimensions of the original painting and measures 24x12 inches. Printed on quality canvas, the image is enhanced by hand applied brush strokes by the artist.

$65 Free Shipping!
New Introductory Price!

24x12 inches on canvas Rickardsville001

The Galena Cityscape

e have posted the latest video demonstration by Gary Olsen captured in his studio featuring his work on this Galena Cityscape. The painting, originally commissioned by Melissa Klein and family of Dubuque, Iowa, is an oil on canvas. it captures the panoramic view of Galena, Illinois from Grant Park. This painting celebrates the day Melissa's husband proposed to her. "How could I not be enthusiastic about this painting?" explains Gary. "I was swept up in the whole project! I've always wanted to do a Galena scene," Gary explains further, "that would compliment my approach to landscape painting. My friend and Galena painter, Carl Johnson, made his career as a painter of Galena scenes. He was an important influence and inspiration in my own career. This is more or less my tribute to his incredible legacy and the example he made of himself and his iconic works of art."

Click on the image above to reveal more detail in your browser. Printed on quality canvas, the color and detail of the print compared to the original are nearly indistinguishable.

The print measures 15 x 30 inches and is printed on quality canvas. GC001 Comes in a sturdy tube ready for framing.

$125 Free Shipping!
A savings of $50 NOW on this introductory Print!

Your print arrives in a sturdy mailing tube ready for framing. Since this is an enhanced canvas print complete with textured brush strokes, it's recommended you don't matte or use glass.It's not necessary. Frame it like an oil painting which is not only appropriate but representst a significant cost savings. Your framer can provide countless options. This way you become part of the creative process in the mounting and display of your print.
The America's River Art Project for the Dubuque Rotary Club

rtist Gary Olsen has produced a video on the creation of a painting commissioned by the Dubuque Rotary Club celebrating its 100th Anniversary and the 15th Anniversary of its commitment to the America's River Project.

The massive original painting displayed here was unveiled to the public on Wednesday, October 12th. Prints of the painting went on sale for the first time that evening.

America's River Print benefitting the Rotary Club's Humanitarian Grants Program. ORDER ONLINE NOW and save!RCP002. Print on Ppaper measures 33 x 20 inches
$40 includes shipping!

America's River Project began as a visionary initiative to improve our city's riverfront which had been largely industrial for generations. Two Rotarians, Wayne Norman and Jerry Enzler, crafted the idea for a revitalization project based on the success of Mystic Seaport, the popular and historic tourist destination in Mystic, Connecticut, and pitched it to the members.

Jerry Enzler

With the Rotary Club's enthusiastic support, the idea grew to become one of the most ambitious civic improvement projects in the Rotary Club's history. This early Rotary Club support for the project signaled the beginning of broad community buy-in as funds from several more sources grew to more than $40 million. The project serves as an example of what a community can do when it's truly inspired and its leaders and creative thinkers begin collaborating and working together.

Gary Olsen, an artist for nearly 50 years in Dubuque, is well known for his landscapes and cityscapes of Dubuque, Iowa and its surrounding countryside. Gary witnessed the evolution of Dubuque's riverfront that changed Dubuque's skyline forever. His celebratory painting features how much Dubuque's "front yard" has changed. Limited edition prints of the painting, signed and numbered by the artist, are available at Creative Touch Gallery on Hillcrest Rd. and Frame of Mind at Plaza 20. Also they are available directly from the artist by clicking on the Order Button below. Funds raised by the sale of these prints will benefit local Rotary Club Humanitarian Grants that are awarded non-profit organizations dedicated to improving the lives of others and making Dubuque a great place to live and raise families.

Heritage Trail, The Drawing (click on image to see details)

This print measures 17 x 38 inches on archival paper $125 Free Shipping HTBW001

Heritage Trail, The Painting (click on image to see details)

This Print measures 17x31 inches on archival paper $125 Free Shipping HTC001
Click on the images above to see detailed versions in your web browser. The Heritage Trail, an Iowa "Rails to Trails" project, was presented to me back in 1980s. I was working at John Deere and some cycling enthusiasts approached me to participate in a fund raising event to generate seed money and to drum up local support for the project. Thirty years later, the 30 mile trail that connects Dubuque extensive in-town bicyle path network follows the Little Maquoketa River valley to the north and west, connecting with Dyersville, Iowa 15 miles due west of Dubuque along US 20. The picturesque ride along the Little Maquoketa River makes it one of the most scenic trails in the Midwest. I am a frequent rider on the trail, and what I love most is the "tunnel of trees" that has formed along several sections of the trail that adjoin the river. I am trying to capture this vision in my composition. I spent several days on the drawing so I could work out compositional details, contrast and balance. The piece is actually a landscape within a landscape. A characteristic of the trail is that you see a pastoral landscape through the trees that line the tail. Dappled light filters through the trees creating interesting contrast of light and shadow. I published the drawing on Facebook to see what people thought of it. The drawing received such an enthusiastic response, I ended up selling the first draft of it and then I decided to publish a print of the drawing along with the print of the completed painting.

Artist Cy P. Ferring

was working for the Dubuque Community Schools when I had the opportunity to take a walk through Senior High School with a teacher friend of mine scouting locations for a video project I was assigned to do. I walked into the school auditorium and much to my amazement I found myself staring at a fairly intact theater space that was built in the Arts and Crafts Style (sometimes referred to or confused with Mission Style) of the early 20th Century, and I was stunned. Sadly the balcony was walled off for classroom space, and the once decorative brass light fixtures were gone, replaced by the ugliest fluorescent light boxes. The dark wood walls were still in good shape but not good repair, and the seating was threadbare but could be restored. What was amazingly still intact but suffering years of neglect were the Cy Ferring Murals. I was thrilled! I remembered seeing them when I was in my 20s and marveling at their detail and sweeping composition. I knew little of Cy Ferring, but I finally did some research. It's a long but exciting story from that time in the 1960s when i first laid eyes on the murals to today. Learn more by visiting my special web page dedicated to the memory of this amazing work and the Dubuque artist behind it, Cy P. Ferring.

Gary Olsen Digital Media Design

elcome to Gary Olsen's Digital Media Design web site. This web site is a virtual studio of work in process... especially graphic design work. But there are also movies! There is a growing number of videos representing a wide variety of projects that Gary is working on at any time. We work with a variety of clients, but we maintain a small and exclusive list because Gary does not want to provide anything short of wonderful, thoughtful and especially personal service. Besides being a designer, painter, photographer, he's a documentary film maker and television producer.

Gary's talents are grounded in classical art training, but he has over the last several years evolved his creative process fully in the digital realm. He was among the first artists to create fine art with a pressure sensitive tablet interface and he toured the country demonstrating this technology. Early adoption of desk-top publishing technology evolved into non-linear video editing. Gary has an 800-square-foot studio in which he produces a variety of video productions for clients. Below are some highlights of projects some of which Gary is still working on. Our design clients use this site to check on their projects. The web is ideal for this close client collaboration.